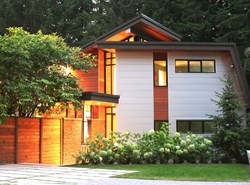 Vancouver, BC (PRWEB) July 22, 2013
The first-ever Vancouver Modern Home Tour will take place on Saturday, September 14th. Tour-goers get the opportunity to explore some of the greatest examples of modern architecture and interior design in their own home town, as Modern Home Tours is making just their second visit outside of the US.
The self-guided driving tour will feature six to ten architecturally progressive and contemporary homes that exemplify modern living in and around the Vancouver area. Tour-goers will see first-hand how homes incorporate the principles of modernist thinking with cutting edge building technique and sustainable techniques when craft, science, and talent all come together to create a completely modern dwelling.
To date, four homes have been approved for the tour, representing works from local Vancouver architects Project 22 Design Inc., One SEED, and Falken Reynolds Interiors.
Modern Home Tours co-founder, Matt Swinney, explains the group's decision to venture north: "The Pacific Northwest region of the United States is very rich in modern architecture, and Vancouver sits right there with them as one of the hotspots for modern design. It is, like Toronto, one of the most vibrant and progressive cities in the Americas, and an absolutely perfect match for our tours. We are thrilled to bring the idea of modern architecture exploration to the unique architectural community that has blossomed north of our borders."
Participating homes will open their doors for viewing from 11AM – 5PM on Saturday, September 14th, in and around Vancouver, British Columbia. Tickets are $30 in advance; $40 on the day of the tour, available at designated locations. All are invited. Kids under 12 are free.
For more details and a current list of homes: http://Vancouver.modernhometours.com
About Modern Home Tours, LLC: Based in Austin, Texas, Modern Home Tours, LLC was founded by partners Matt Swinney & James Leasure to introduce Modern architecture and living to people across the nation. Through fun and informative tours in dozens of cities across the USA and Canada, we invite people into some of the most exciting examples of Modern architecture and design in the nation. With carefully selected architects, neighborhoods and architecture, our home tours are unlike anything you've ever seen. Not only will you learn about the cutting edge of home design while on our tours, but you might even get an idea or two for your next home project!