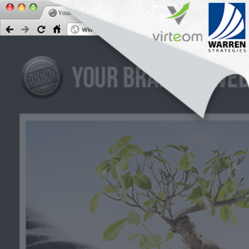 Virteom would (is) the optimum platform for the marketing plans that we are developing and implementing on a daily basis for our clients.
Detroit, Michigan (PRWEB) June 30, 2013
Dan Carbone and Joshua Williams first met at EO Thrive back in 2012. This regional event through Entrepreneurs Organization is designed to bring business leaders together from all over the United States and serves as a catalyst for growth among entrepreneurs. This is exactly what happened for these two business leaders. Carbone is the CEO of Virteom, a technology company that builds web and mobile platforms to fit the needs of their clients and Williams is the President of Warren Strategies, a marketing firm that leverages technology to drive growth for their clients.
While both companies have independently found success, Carbone and Williams saw a natural fit for their companies to work together. "As Dan explained the Virteom technology, I quickly realized that Virteom would be the optimum platform for the marketing plans that we are developing and implementing on a daily basis for our clients," Williams said.
Virteom provides marketing tools that are built directly into websites and mobile applications. Since Warren Strategies is a firm that helps companies best market their services and products, the collaboration of these companies makes sense and, as of June 2013, the companies have merged efforts and look to expand the service offerings of Virteom and Warren Strategies over the coming months.
Virteom plans to introduce a new platform that will increase the functionality of websites hosted through other providers. "While the Virteom platform is complete when it comes to new site construction, we are now in process of taking the next vital step in our future. We are currently building a path to provide Virteom services to existing websites," said Carbone.
Through the creation of this plug-in, Virteom will be able to update and optimize websites, a process that usually takes weeks, in a matter of hours. Carbone says "by the end of 2013 we plan to be able to convert an existing site and provide immediate results and Virteom functionality in less than one day from sale to fulfillment."
The partnership of Virteom and Warren Strategies will spur on further developments, like this plug-in, in order to best serve businesses who are striving to grow.
Warren Strategies is a Michigan-based marketing consulting firm focused on lead generation activities for business-to-business clients. In business for 27 years, and with a staff of experienced advisors, this disciplined and innovative firm crafts unique marketing strategy plans for each client it works with. For more information on how Warren Strategies can help you reach more qualified prospects and change business as usual, call (248) 358-1818.