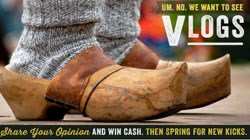 (PRWEB) August 24, 2013
VidioVibe has issued a challenge to all video creators to Vlog it Up! This competition asks creators to show the world what they've got in a 5 minute or less vlog entry. A simple web/video camera and something to talk about are all that is needed.
Each and every week, VidioVibe hosts video contests in five categories – action, comedy, documentary, drama and music video. Every Sunday night, the latest entrants are revealed and the public has a week to rate the favorites. Each video receives a score based on the contest ratings and the number of ratings to determine which videos take home the cash.
For this special VidioVibe Vlog contest, users simply upload a five minute or less vlog to Vidiovibe.com by 5 pm Pacific Time on Sunday, September 1, 2013 to be entered to win. All entries will go live at that time and will be open to ratings from the public until September 8th when the winners will be announced. The first place winner will receive $250 cash, second place $100 cash and third place $50 cash. The official rules and entry information are available online at http://www.vidiovibe.com/contest/variety.
About Vidi Entertainment, Inc
Vidi Entertainment, Inc. is an innovative technology company that focuses on developing dynamic, video-based entertainment websites and mobile applications. For more information, visit http://www.vidiovibe.com and join VidioVibe on Facebook, Twitter, Google+ and Pinterest.