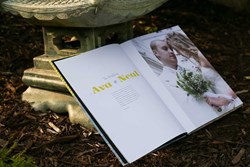 The PS I Love You Photo Storybook is a groundbreaking new product, a combination of a photo album and professionally written story, with the option of actual mementos presented within the book.
Minneapolis, MN. (PRWEB) October 23, 2013
PS I Love You Photo Storybooks debuts to brides and grooms everywhere a one-stop album where photos, the couple's story, remembrances from family and friends along with actual physical mementos from the wedding day merge together to form a totally new experience in wedding albums – large, impressive, conversation stopping – an all inclusive heirloom volume.
Never again will a treasured wedding vow, program or love letter be relegated to a box in the attic, all but forgotten. Everything is brought together in one place in the PS I Love You Photo Storybook, holding forever the complete story of two people becoming one. With the advent of the Photo Storybook, the wedding day, which today's bride is designing down to the tiniest detail, is encompassed in a keepsake that captures so much more than merely photos. Professionally written and designed, the books are big, beautiful, and crafted by hand, using the finest and most durable materials. Photos of sample books can be seen at the company's website gallery link: http://www.psiloveyoubooks.com/gallery.
As PS I Love You Photo Storybooks company director Liz Hilton says about this revolutionary product, "The Photo Storybook that we are putting out into the marketplace is the first of its kind. And, I wonder, why is it the first of its kind? Photos tell a story but words fill in the details. Indeed, as a photographer and writer, I see the importance of both, how they go hand in hand. They're the perfect marriage of memories."
"And what about all those irreplaceable little mementos you have stashed away? (Mine are in a mini trunk in my closet). Can you imagine having them right there at your fingertips with your personal story and your pictures? Where you will actually look at them? I'm guessing most people are like me - every once and awhile I haul out my mementos, having no idea what's even there anymore, but when I read through them, I become enamored with my husband all over again. Sometimes I forget where we came from and how 'we' came to be. So to have those things within a custom design I think is pretty incredible. I hope you think so, too."
Today's bride is one savvy customer, always on the lookout for what's newest in trends, freshest in wedding ideas, the cutting-ist edge of what's on the wedding horizon. The PS I Love You Photo Storybook is exactly that sought-after, previously unheard-of product, a brand new defining addition to the boutique wedding market.
The albums themselves are available in a variety of large coffee table sizes, ranging from 10X10 to 12X15, including portrait and landscape, with covers sporting the couple's chosen photo of themselves as a wraparound of the entire book, or two separate photos, front and back. Custom designed covers are also available. Covers come in satin, micro-suede and organic cotton. Two other cover styles are the Peek-A-Boo Wrap and silk spine with slipcase. The albums are created according to the highest industry standards, with archival photo papers. All are guaranteed to last beyond a lifetime. Interior layouts are individually created by our graphic designers based on a chosen template – each one hand designed to best feature the photos in conjunction with the text layout and mementos.
PS I Love You Photo Storybooks offers the modern bride a radically new and exciting choice in wedding albums. As Liz Hilton says, "You may note that on our website we use words like 'incredible,' 'amazing,' and 'gorgeous.' Truly, it's not loose talk, or worse, hype. They really are those things. The Photo Storybooks we've created to date are not based on my wedding, but from my reaction to seeing the finished samples, you'd think they were. I wish I could give them out for free - I want everyone to have one!"
PS I Love You Photo Storybooks are available to professional photographers and the general public now. You can visit our website at: http://www.psiloveyoubooks.com/.
About PS I Love You Photo Storybooks
PS I Love You Photo Storybooks was founded on the idea that the wedding album could be more than merely photos in a book. Combining precious photos with a professionally written story of the events to go alongside them, nothing is left out, it's all there in the Photo Storybook, including actual, physical mementos. PS I Love You Photo Storybooks proudly presents this revolutionary product, a wedding album unlike any other.