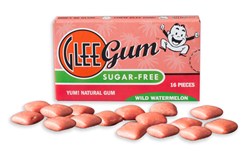 Recognition like this further strengthens our conviction that gum doesn't have to be junk food.
Providence, RI (PRWEB) November 07, 2013
Glee Gum has been named a 2013 "Editors' Choice Food Awards" winner in Yankee Magazine's November/ December issue, on newsstands now. This exclusive designation recognizes Yankee editors' favorite artisanal New England foods—the best cheeses, charcuterie, jams, chocolates, mustards, and more. In this inaugural year of the Awards, Glee Gum joins a select group of tasty treats featured in the chocolate and candy category.
"It's an honor and a real point of pride to receive an Editors' Choice Food Award from such a respected, beloved, and longstanding New England magazine," says Deborah Schimberg, president and founder of Verve, Inc., producer of Glee Gum. "We're a small business based in a small state. But, we've got big ideas about the importance of providing natural, high quality foods. Recognition like this further strengthens our conviction that gum doesn't have to be junk food."
Unlike most gums, Glee Gum contains no artificial flavors, colors (like Blue 2 Lake or Red 40), sweeteners (like Aspartame or Acesulfame K), or preservatives (like BHT). It's the first gum to be Non-GMO Project Verified, and one of the last still made with chicle, a tree sap harvested sustainably to help conserve the rainforest. Six classic flavors are sweetened with Fair Trade cane sugar and brown rice syrup, while three kinds of sugar-free Glee, including new Wild Watermelon, use 100% xylitol for added dental benefits. Glee Gum is sold in recycled cardboard packs of 16 pieces (SRP $1.09), and in new, resealable and recyclable pouches of 75 pieces (SRP $4.99).
"To live in New England in 2013 is to have access to a pantry stocked with the finest cheeses, the richest chocolates, the best cured meats, and the sweetest honeys—all made locally by people who care deeply about food," explains Amy Traverso, senior lifestyle editor at Yankee Magazine. "We tasted our way through farmers' markets and gourmet shops, tracked prize winners at fairs, and talked with foodies across New England to find the 30 products that we highlight here. They're some of the most delectable foods being made not just in New England, but in the country, today."
In describing Glee Gum, Yankee Magazine suggests, "Great ideas may come in tiny packages." Along with the first annual Editors' Choice Food Awards, Yankee's "Holiday Food Guide" also features 36 delicious recipes from starters to sweets, including holiday cookies and feast-worthy Thanksgiving sides. To view all the Award winners, visit: YankeeMagazine.com/foodawards.
Yankee Magazine was founded in 1935 and is based in Dublin, New Hampshire. It is the only magazine devoted to New England through its coverage of travel, home, food, and feature stories. With an average circulation of 317,000 and a total audience of 1.7 million readers, it is published by Yankee Publishing Incorporated (YPI), a family-owned, independent magazine publisher. YPI also owns the nation's oldest continuously produced periodical, The Old Farmer's Almanac, and McLean Communications. More information about Yankee: New England's Magazine is available at: YankeeMagazine.com/press.
Verve, Inc., maker of Glee Gum, is an independent, certified woman-owned business, dedicated to creating environmentally and socially responsible products. Verve produces Glee Gum, a natural chewing gum sold throughout the US and Canada at stores like Whole Foods and Cost Plus World Market, as well as a line of natural, educational Make Your Own Candy Kits for kids. For more details & store locations where Glee Gum can be found, visit: GleeGum.com.