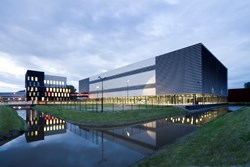 Zoot's European clients highly value the deep industry expertise of the European team as well as close proximity to our European data centres.
Leeds, UK / Frankfurt, Germany / Bozeman, USA (PRWEB) November 19, 2013
Zoot Enterprises Limited, a global provider of advanced instant credit decisioning, risk management, loan origination and workflow management solutions announced today significant expansion of its international operations. Zoot has added three senior executives in Europe, formed a subsidiary in the United Kingdom, opened new offices in Leeds, UK and Frankfurt, Germany and brought a data processing centre online in Amsterdam.
Erik Schmidt, CEO, Zoot International AG, based in Switzerland and responsible for Zoot's European operations commented, "We are excited about the formation of the UK entity. It is a huge milestone for Zoot and as the largest center for business and financial services outside London, Leeds is the ideal location for our new base in the UK while the opening of a new office in Frankfurt is testament to our continued success and growth in Germany. Zoot's Amsterdam data centre will provide the same high-performance SaaS service that Zoot is famous for and ensure world-leading response times to our European client-base."
Zoot has pioneered the industry since its founding in 1990 and maintains a long-standing, blue-chip client base in the U.S., Canada and Mexico. As Zoot's European client base grows, Zoot is further expanding its geographic presence and adding significant industry expertise in line with its strategic expansion plans. In parallel with the office openings in the UK and Germany, Zoot has launched a state-of-the-art data centre in Amsterdam to ensure that client transactions are handled efficiently within Europe. The Equinix International Business Exchange™ AM3 data centre delivers the highest level of operational expertise and meets all of Zoot's strict requirements concerning security, redundancy, availability and compliance.
Additionally, key management positions have been filled to support European client service and sales efforts. Adam Jackson, who joined as Managing Director of Zoot Enterprises Limited, has a strong background in end-to-end risk management and brings an abundance of practical knowledge, having joined Zoot from a UK Credit Reference Agency where he held a variety of commercially focused roles over a six-year period. He has experience across all stages of the customer lifecycle including credit risk management, KYC, anti-money laundering, fraud, customer management and collections and recoveries.
Mischa Schmierer was appointed Vice President Solutions & Services at Zoot Deutschland GmbH. Schmierer brings more than 12 years of credit risk management know-how from both an IT and business perspective to this role. He has experience within the credit agency, risk management, fraud prevention, debt collection and factoring in e-Commerce, mail-order, telecommunication and banking industries. Schmierer will lead all aspects of solution development and delivery for the European market as well as European business development efforts. His focus will be on tailoring Zoot´s solutions to be an optimal fit for local customers.
Martin Ripke joined Zoot Deutschland GmbH as Sales Manager and is responsible for sales, marketing and customer care primarily in Germany, Austria and Switzerland. Ripke has more than 15 years of experience with a focus on financial service providers, e-Commerce and telecommunications companies. Ripke's expertise allows him to understand complex business requirements and present effective solutions for the challenges facing clients in the areas of risk management, collections as well as use of the underlying data from credit agencies (B2C and B2B).
"Zoot's European clients highly value the deep industry expertise of the European team as well as close proximity to our European data centres," said Schmidt, "Between them Jackson, Schmierer and Ripke add more than 35 years of combined experience in the financial services industry to our current European team of seasoned professionals. Zoot's clients are already reaping significant benefits from these additions to our management, office, and processing resources in Europe."
###
About Zoot
Zoot is a global provider of advanced instant credit decisioning, risk management, loan origination, and workflow management solutions. For more than 20 years, the company's innovative tools and services model has enabled Zoot clients to meet their exact business objectives and adapt quickly to seize market opportunities. Zoot's multinational processing environment has the capacity to deliver billions of real-time decisions annually. Visit http://www.zootweb.co.uk for more information or call +44 113 246 8693.