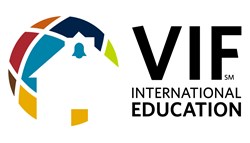 VIF's Olympic toolkit is an exciting way for teachers to weave the culture and geography of this historic event into their lessons.
Chapel Hill, N.C. (PRWEB) January 28, 2014
VIF International Education, the leading provider of global education programs for K-12 schools, announced Tuesday that its integrated learning platform for teacher professional development and curriculum released an Olympic-themed activity toolkit. This robust resource makes it easy for educators to infuse global content into their classrooms through the excitement of the Olympic Games.
The 2014 Winter Olympics toolkit, available in the VIF learning center, contains various activities for teachers to implement throughout the duration of the Olympics. All activities are designed to help students accomplish four main goals: to understand the role of culture in the world, to investigate the world, to integrate global content into their learning and to connect with a global purpose.
The toolkit features activities in several subject areas, including literacy, social studies, math, art and science, and helps students develop research and technology skills. Students participate in a variety of fun learning activities such as an Internet-based scavenger hunt of Olympic facts, a personal interpretation of the Olympic Creed through poetry, charting and graphing athletes' progress throughout the games, and using social media to follow athletes and send messages of encouragement. Teachers can continue to promote the spirit of the games with included Paralympics extension activities.
"More than 3 billion people are expected to watch as 6,000 athletes from 85 countries compete in the 2014 Winter Olympic Games in Sochi, Russia," said VIF CEO David Young. "VIF's Olympic toolkit is an exciting way for teachers to weave the culture and geography of this historic event into their lessons. The toolkit, along with the learning center community and online resources, ensures that every student is able to experience the games without ever having to leave the classroom."
In addition to special edition toolkits, the VIF learning center provides a wealth of resources for any K-12 teachers seeking to weave global content into their core curriculum. The Global Gateway system, supported by the learning center, integrates professional development, an engaging community of educators and an extensive classroom resource library containing thousands of globally themed expert- and teacher-created lessons. These lessons, available in English, Spanish and Mandarin, are rooted in project-based learning and are aligned to Common Core and other national standards.
Any teacher, any place can participate in the Olympic festivities by using the toolkit and sharing their experiences with the VIF community at viflearn.com.
###
About VIF International Education
VIF International Education (http://www.vifprogram.com) builds global education programs that prepare students for success in an interconnected world. For more than 25 years, educators have leveraged VIF's professional development and curriculum, language acquisition and teacher exchange programs to generate engaging learning environments where students can excel in core curriculum as well as develop valuable critical and creative thinking skills. A certified B Corp and 'Best for the World' honoree headquartered in Chapel Hill, N.C., VIF provides a pathway for teachers, schools and districts to become globally designated.
About Global Gateway
The Global Gateway system offers a simple integrated platform for educator professional development, lesson plans and classroom resources, digital badging for achievements and participation in an incredible collaborative community of global educators. Through purposeful ongoing Global Gateway professional development, teachers anywhere in the world can learn to effectively integrate global content into their core instruction.
Tags: global-ready, global competence, global awareness, global schools, global education, international education, professional development, curriculum, K-12, e-learning, social learning platforms, professional learning networks, teachers, student achievement, 21st century skills, edtech, education technology, project-based learning, Olympic Games, Sochi, Winter Olympics, Paralympics, lesson plans, teacher resources