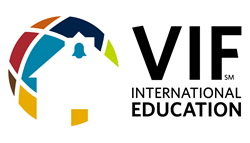 Most students begin learning a foreign language in middle or high school, but some here in North Carolina are picking up a second language beginning as early as kindergarten.
Chapel Hill, N.C. (PRWEB) January 30, 2014
VIF International Education, the leading provider of dual language programs for North Carolina schools, proudly announced Thursday that recent test results show K-5 students participating in its Splash language immersion programs surpass their peers in reading, math and science, and they are outpacing state averages.
In Splash language immersion classrooms, up to 90 percent of the core subject matter is taught in the target language, either Spanish or Mandarin, producing students who are bilingual, biliterate and culturally aware. These increasingly important skills promote high student achievement and give students a competitive advantage in today's global marketplace. Children who learn in two languages also benefit from increased critical thinking skills, cognitive development and executive function, according to recent studies.
Dual language programs provide an attractive option for schools seeking to increase enrollment and develop global-ready young leaders. This fall, a public school in Edgecombe County, N.C., will reopen as Martin Millennium Academy, a K-8 global school offering Splash language immersion beginning in kindergarten. Within two days of the enrollment period opening, 180 students signed up - many coming from charter and private schools.
"What excites VIF's partner schools the most is that these results hold true regardless of socioeconomic or demographic variables. Whatever the school environment, our Splash dual language program produces positive results," said VIF CEO David Young.
Language immersion programs also help close the achievement gap and reach underachieving subgroups. Splash student results prove that high student achievement holds true regardless of demographic setting. Last month, W. H. Owen Elementary, a Title I school in Cumberland County, N.C., reported that students enrolled in their Splash language immersion program are exceeding state averages on third- and fourth-grade tests in reading and math, and are scoring approximately 30 points higher on their end-of-grade tests than their non-Splash peers.
"Most students begin learning a foreign language in middle or high school, but some here in North Carolina are picking up a second language beginning as early as kindergarten," said N.C. State Superintendent Dr. June Atkinson. "The exciting thing about this program is its potential; children obtain a great academic experience, and they also become fluent in another language helping to create a well-rounded, prepared global citizen."
Splash teachers participate in professional development and access curriculum specifically designed for language teachers in the VIF learning center. Any teacher can become a member of the VIF community to take advantage of these expert-created tools and engage with global educators around the world at viflearn.com.
About VIF International Education
VIF International Education (http://www.vifprogram.com) builds global education programs that prepare students for success in an interconnected world. For more than 25 years, educators have leveraged VIF's professional development and curriculum, language acquisition and teacher exchange programs to generate engaging learning environments where students can excel in core curriculum as well as develop valuable critical and creative thinking skills. A certified B Corp and 'Best for the World' honoree headquartered in Chapel Hill, N.C., VIF provides a pathway for teachers, schools and districts to become globally designated.
About Splash Language Immersion
Splash programs provide a comprehensive package to develop and maintain consistent, high-quality K-8 world language programs in North Carolina. In a Splash dual language immersion classroom, VIF provides teachers with tools to promote academic achievement through enrichment rather than remediation. Students, in turn, excel in their core studies while becoming bilingual and culturally aware. All Splash teachers receive support and ongoing training, and can join an online community of educators in the VIF learning center, where they have access to Global Gateway professional development and a robust library of curricular tools and classroom resources.
Tags: language immersion, dual language, world language, bilingual, biliterate, Spanish, Mandarin, global competence, global awareness, cultural awareness, global schools, global education, international education, curriculum, K-12, student achievement, North Carolina schools