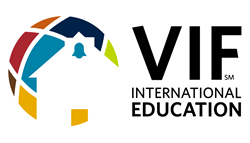 Global Gateway guides teachers as they implement global education into their classrooms, and our indicators provide them with a way to measure their students' global competency.
Chapel Hill, NC (PRWEB) February 28, 2014
VIF International Education, the leading provider of global education programs for K-12 schools, announced Friday the release of its global competence indicators, a guide to integrating global awareness into classroom practices and assessing student progress in global learning.
These indicators, developed by curriculum experts at VIF, are the foundation of the Global Gateway professional development system for K-12 educators. They provide grade-level frameworks for global competence and aim to help leaders establish a learning environment in which teachers and students develop deep cultural knowledge and explore the ways culture influences identities and worldviews.
Anchored in technology, global knowledge and project-based inquiry, Global Gateway is designed to fit into existing instructional practices in order to enhance what educators are already doing in their classrooms. Its integrated format incorporates expert-created globally themed lesson plans to help teachers get started quickly, guided professional development modules to expand their knowledge and creativity, and a social learning community to provide continuous support throughout this process.
"Global Gateway guides teachers as they implement global education into their classrooms, and our indicators provide them with a way to measure their students' global competency," said VIF CEO David Young. "Administrators support the use of these tools to globalize their schools and help teachers meet the demands of the Common Core."
Global Gateway is a unique professional learning network in that it combines three essential components to guide educators on their journey to global competency. Teachers familiarize themselves with effective global project-based lessons through use of the resource library. Then, as they complete professional development modules, they learn how to combine these strategies and instructional methods to develop their own lessons. The integrated nature of the system makes it the most effective way to master global education.
Any teacher can access expert-created lesson plans, engage with peers around the world and develop their skills as global educators at viflearn.com.
About VIF International Education
VIF International Education (http://www.vifprogram.com) builds global education programs that prepare students for success in an interconnected world. For more than 25 years, educators have leveraged VIF's professional development and curriculum, language acquisition and teacher exchange programs to generate engaging learning environments where students can excel in core curriculum as well as develop valuable critical and creative thinking skills. A certified B Corp and 'Best for the World' honoree headquartered in Chapel Hill, N.C., VIF provides a pathway for teachers, schools and districts to become globally designated.
About Global Gateway
The Global Gateway system offers a simple integrated platform for educator professional development, lesson plans and classroom resources, digital badging for achievements and participation in an incredible collaborative community of global educators. Through purposeful ongoing Global Gateway professional development, teachers anywhere in the world can learn to effectively integrate global content into their core instruction.
Tags: global-ready, global competence, global awareness, global schools, global education, international education, professional development, curriculum, K-12, e-learning, social learning platforms, professional learning networks, teachers, student achievement, 21st century skills, edtech, education technology, project-based learning, lesson plans, teacher resources.