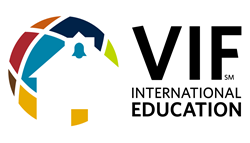 Project-based inquiry is a powerful tool that empowers students and teachers to address these global challenges.
Chapel Hill, N.C. (PRWEB) March 20, 2014
VIF International Education, the leading provider of global education programs for K-12 schools, announced Thursday that its integrated learning platform for teacher professional development and curriculum released a guide for building global project-based lessons. This toolkit, inspired by World Water Day (March 22), makes it easy for educators to build lessons around water, a global common, to drive student-led investigations through a project-based inquiry (PBI) approach.
The Water Day toolkit, available in the VIF learning center, contains various activities and resources that guide teachers and students through the inquiry process: ask, investigate/analyze, synthesize/create, share, reflect/revise. This PBI approach to learning enables students to fully understand the importance of water by transforming information into usable knowledge, offering students experiential, create-to-learn opportunities that take them beyond topics in order to grasp the material conceptually.
"Students need to learn about the challenges the world is facing and participate in finding resolutions. Project-based inquiry is a powerful tool that empowers students and teachers to address these global challenges," said VIF CEO David Young. "Teachers can use this toolkit to spark student engagement and increase learning of curricular concepts."
Teachers can also participate in VIF's Water Day toolkit challenge for a chance to win prizes by simply implementing a water-themed activity or lesson in the classroom and uploading evidence of a student learning product created as a result to the VIF learning center. Everyone who participates in the challenge will receive a Water Day digital badge and four lucky teachers will receive water.org CamelBak Groove bottles, proceeds of which help to bring safe drinking water and sanitation to communities in developing countries.
In addition to special edition toolkits, the VIF learning center provides a wealth of resources for K-12 teachers who seek to weave global content into their core curriculum. The Global Gateway system, supported by the learning center, is designed to fit into existing instructional practices in order to enhance what educators are already doing in their classrooms. It integrates professional development, an engaging community of educators and an extensive classroom resource library containing thousands of globally themed expert- and teacher-created lessons. These lessons are rooted in project-based learning and are aligned to Common Core and other national standards.
Any teacher can access expert-created lesson plans and toolkits, engage with peers around the world and develop their skills as global educators at viflearn.com.
###
About VIF International Education
VIF International Education (http://www.vifprogram.com) builds global education programs that prepare students for success in an interconnected world. For more than 25 years, educators have leveraged VIF's professional development and curriculum, language acquisition and teacher exchange programs to generate engaging learning environments where students can excel in core curriculum as well as develop valuable critical and creative thinking skills. A certified B Corp and 'Best for the World' honoree headquartered in Chapel Hill, N.C., VIF provides a pathway for teachers, schools and districts to become globally designated.
About Global Gateway
The Global Gateway system offers a simple integrated platform for educator professional development, lesson plans and classroom resources, digital badging for achievements and participation in an incredible collaborative community of global educators. Through purposeful ongoing Global Gateway professional development, teachers anywhere in the world can learn to effectively integrate global content into their core instruction.
Tags: global-ready, global competence, global awareness, global schools, global education, international education, professional development, curriculum, K-12, e-learning, social learning platforms, professional learning networks, teachers, student achievement, 21st century skills, edtech, education technology, project-based learning, lesson plans, teacher resources, World Water Day