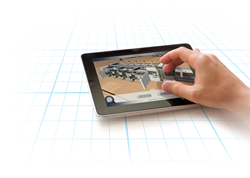 Atlatl SRP simplifies the complexity of selling and manufacturing engineered-to-order products. Atlatl SRP users are seeing increases in revenue and decreases in operating costs.
Atlanta, GA (PRWEB) March 17, 2014
Atlatl Software, pioneer of the software category "sales resource planning™" (SRP™), is exhibiting at Modex its Atlatl SRP innovative 3D virtualized sales resource planning software—the first software of its kind to integrate customer relationship management (CRM); configure, price, quote (CPQ); material requirements planning (MRP); and enterprise resource planning (ERP) into a single, cloud-based app for iPhone®, Android and desktop operating systems.
Atlatl SRP enables sales and distribution channels, engineering and manufacturing planning to quote and build complex, configurable products with greater speed and accuracy. Given the complexity of today's configurable products, many of the efficiency gains of lean in manufacturing are lost upstream in the sales, engineering and planning processes. Atlatl software integrates these important functions into a single front-end value stream. It's lean for the selling and planning processes.
"We developed Atlatl SRP software in response to increasing customization and manufacturing complexity. The software simplifies the complexity of selling and manufacturing engineered-to-order products. As a result, Atlatl SRP users are seeing increases in revenue and decreases in operating costs," said Rob Honeycutt, Atlatl CEO.
Reducing the complexity of selling and building engineered-to-order products:
Atlatl SRP leans out the front-end selling, engineering and manufacturing planning processes by applying the principles of digitization, mobility and software algorithms. Unique to Atlatl SRP is its 3D virtualized interface. The software simulates the customer's environment and operates with an easy and intuitive game-like interface.
When used on a mobile device, the Atlatl SRP software leverages simple gestures including pinch, stretch and swipe. As the 3D product rendering is pinched or stretched, powerful underlying engineering rules automatically reconfigure parts and subcomponents where necessary to fit available space, while compensating for each product's variation in size and scale. All of this is easily rendered in front of the customer in minutes, and a simple tap or click issues a quote complete with engineering-level drawings.
Key benefits of Atlatl SRP software include:
-- Improves the user experience for customers – they see what they'll get in form and function and get it up to 30 percent faster than the current separate sales, planning and manufacturing value streams.
-- Reduces selling waste—repeat visits, reworked quotes, and redundant information—and drives higher sales with its 90 percent adoption rate.
-- Increases visibility early in the sales cycle to parts requirements, enabling manufacturing and material planners, to respond quickly and accurately while reducing inventory and product returns.
Atlatl SRP software overcomes one of the biggest impediments to selling engineered-to-order products—enabling the client to see how the products will fit and function before buying, and having the ability to issue an estimate on the spot, when the client is most enthusiastic about the project and ready to buy.
"Atlatl SRP software has been proven to help sales reps close more deals faster," said Honeycutt. "It's very powerful to design your client's project right in front of them—even allowing the client to make changes on the fly and simulate how they will impact the overall design. Add to that the fact that you can instantly provide an estimate, and you're likely to instantly get the order too."
The bottom line is that clients know what they're getting and how much it will cost in minutes compared to days or even weeks. And suppliers know what to produce, how much and when with greater speed and accuracy. Atlatl SRP software reduces the more obvious costs, and also the not-so-obvious costs resulting from inefficiencies in the process that waste time and talent.
About Atlatl Software:
Atlatl Software is a Six Axis LLC company based in Charleston, SC. Founded in 2012, the company's focus, like the eponymous ancient tool, is on creating incredible leverage for its customers, their sales reps and distributors. Built for sales and manufacturing by sales and manufacturing specialists, Atlatl SRP Software is the first 3D enterprise-class selling solution that uses the latest in human interface design and mobile technologies to deliver information and efficiency to sales and manufacturing professionals, helping them sell and produce more products in less time and at lower cost.
For more information, download the Atlatl SRP Software Guide, The Ultimate Sales Tool. To learn more about Atlatl SRP, visit the Atlatl Software website or call (855) 762-8528.