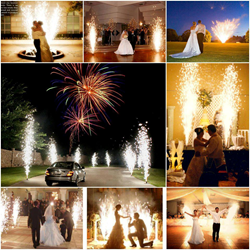 Simon Harding, Director of Sirotechnics said... Fireworks really do add that special ending to your wedding day celebrations.
(PRWEB UK) 7 March 2014
Solihull based fireworks display company Sirotechnics, the recent winner of the prestigious British Musical Fireworks Championships, has launched its corporate and wedding fireworks display packages for the 2014 season.
Simon Harding, Director of Sirotechnics said, "Our 2013 Firework displays bought us awards and acclaim, This year we have produced Wedding Firework & Pyromusical display packages ranging from our entry level displays for the budget conscious, right through to bespoke packages designed for huge celebrity weddings."
Sirotechnics are also pleased to announce a selection of corporate fireworks display packages to compliment the existing bespoke range.
Simon went on to say… Our range of Pyromusical corporate firework displays are becoming extremely popular with our corporate clients, especially for product launches. Unveiling a product with fireworks synchronised with music really makes a launch a memorable occasion.
As well as new wedding and corporate event packages, Sirotechnics continues to invest in state of the art equipment to deliver best in class firework displays. 2014 being no exception with considerable capital already spent on new logistics and tech equipment.
To book a display or to contact the team at Sirotechnics, please visit Sirotechnics.co.uk
About Sirotechnics
Sirotechnics Fireworks have been providing firework displays at weddings and corporate events for over 20 years with a reputation of excellence built on years of experience. Sirotechnics are the current holders of the British Musical Fireworks Championships. To find out more or to book Sirotechnics for your wedding or corporate event please visit the Sirotechnics.co.uk website.
Note to Wedding Magazines, Bloggers & Journalists
Sirotechnics is proactively offering content & interviews for your publications. We have a large amount of video, images and other content covering our wedding firework displays and would welcome the opportunity to work with you. If this is of interest please contact us via our website