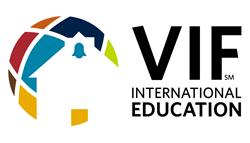 The impact that technology, media and our environment has on our work to help reimagine and modernize global education influences our mission constantly.
Chapel Hill, N.C. (PRWEB) April 03, 2014
VIF International Education (VIF), an education technology company that builds K-12 global education programs, announced Thursday that the company was included for the second year in a row in 'B Corp Best for the World.' The nonprofit B Lab with the release of the third annual 'B Corp Best for the World' list recognized 92 companies worldwide for creating the most positive, overall social and environmental impact. The list honors businesses that earned an overall score in the top 10 percent of all Certified B Corporations on the B Impact Assessment, a rigorous and comprehensive assessment of a company's impact on its workers, community and the environment.
"The impact that technology, media and our environment has on our work to help reimagine and modernize global education influences our mission constantly," explained David Young, CEO of VIF. "Education through conversation and sharing cultural perspectives on both geographically specific and global topics inspire well-informed and more balanced thought leadership, and this year's recognition from B Corp is a testament to the global education partnerships we're successfully creating around the world."
VIF partners with districts and schools through common core-aligned professional development and globally infused curriculum, language acquisition programs and international teacher exchange to implement solutions that keep students at the forefront of education - developing lifelong learners prepared for pathways to college and career accomplishment. VIF helps global-ready teachers bring the world to students - and bring students into the world as successful contributors to a global marketplace.
"Employees, consumers, investors, and policy makers increasingly want to support companies that create a positive impact in the world and the Best for the World honorees are the best of the best," said Jay Coen Gilbert, co-founder of B Lab, the nonprofit organization that certifies B Corporations and governs the independent third party standard used to generate the comparable assessment of corporate impact. "It's particularly inspiring that 21% of the 2014 honorees are first time winners but long time B Corps. They're winning the race to the top."
The announcement was made late last month by B Lab. For more information, click here: http://www.csrwire.com/press_releases/36815-92-Businesses-Honored-as-Best-for-the-World-Creating-Most-Overall-Positive-Social-and-Environmental-Impact
###
About VIF International Education
VIF International Education (http://www.vifprogram.com) builds global education programs that prepare students for success in an interconnected world. For more than 25 years, educators have leveraged VIF's professional development and curriculum, language acquisition and teacher exchange programs to generate engaging learning environments where students can excel in core curriculum as well as develop valuable critical and creative thinking skills. A certified B Corp headquartered in Chapel Hill, N.C., VIF provides a pathway for teachers, schools and districts to become globally designated.
About B Lab
Wayne, Pa.-based B Lab is a non-profit organization that has created a framework against which companies can measure and track their social responsibility. B Lab ranks companies on their treatment of workers, contribution to the community and impact on the environment. Learn more at bcorporation.net, benefitcorp.net and giirs.org.
Media contact:
Cherie Le Penske
LP Group for VIF
Cherie(at)lpgink(dot)com or 206-852-8427