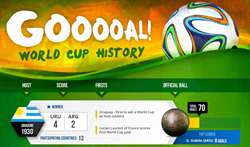 It illustrates a few of the best moments in World Cup History
Fort Lauderdale, FL (PRWEB) June 16, 2014
An infographic of the history of the World Cup has been released by DishTVSignUp.com and TribalFootball.com. With the 2014 World Cup underway, this bit of information hopes to teach readers about the outcomes of previous World Cups as well as highlight major moments in the history of this globally televised sporting event.
As many fans settle in to watch the upcoming matches, Qology Direct, owner of DishTVSignUp.com, hopes to take advantage of the attention this event is getting and leverage it to attract visitors to both engage with this content piece and explore other areas of their site. Tribalfootball.com, the ultimate site for everything and anything soccer, hopes to provide their audience with a unique perspective on the history of the sport they love so deeply.
The graphic explores the many turns history took to finally land on the game as it is known today. Visitors to the page will learn about the first time unique shots were made, total goals scored, and top scorers of each World Cup. The introduction of new policies and regulations and the use of new technologies is also touched upon. Visitors can even see each official soccer ball used as part of the history of the FIFA World Cup. Needless to say, information on the hosting country, winning team and score is also listed for each highlighted year.
The graphic will be available throughout the 2014 World Cup duration and beyond. "It illustrates a few of the best moments in World Cup History. It highlights the growing importance of what the FIFA World Cup is today," stated Brigitte Mina – Social Media Coordinator at Qology Direct. "The World Cup is about unity, fairness, passion, and the things that bring us together as we support our favorite teams and players." Many of the employees at Qology Direct are dedicated soccer fans and were excited to participate in helping to make this infographic both accurate and interesting overall by pitching in with the research and providing feedback on early and final drafts. Even the CFO, Michael Morrison, pitched in with some very honest remarks about what things needed fixing.
About DishTVSignUp.com
DISHTVSignup.com provides an additional venue for consumers to learn about DISH systems. Additionally, they provide information on all things product, industry, news, and programming related for DISH and its current technology via their blog and Facebook page.
About TribalFootball.com
Football never stops. There's something happening every moment of the day in all corners of the football globe. Tribalfootball.com brings you all the latest news in football as it happens. With over two million monthly users, Tribalfootball provides a constant stream of football news stories, trade updates, match reports and opinion pieces every hour of the day.