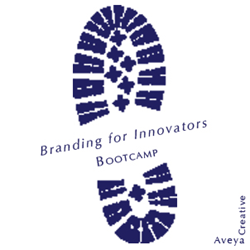 Innovators comes in all shapes and sizes: Startups, for-profit and non-profit organizations, entrepreneurs, and product managers all need to be innovative in order to survive.
Washington DC (PRWEB) July 02, 2014
On Friday, July 25th, Mariya Bouraima, Founder of Washington DC-based branding agency Aveya Creative, will lead "Branding for Innovators Bootcamp," an all-day hands-on workshop at General Assembly about transforming ideas into brands.
Participants of "Branding for Innovators Bootcamp" will arrive with ideas in mind -whether these are new products or services being developed within their organizations or startups bringing new concepts to market - and spend the day transforming each of those ideas into brands.
The workshop will open with students presenting their ideas to the class. Upon learning innovative branding concepts and methodologies, students will develop brand promise statements, compose tagline options, sketch logo drafts and work on flash pitches to present to peers in the class. Instructor feedback throughout the creative process will be provided during the hands-on activities and the class will culminate with presentations of ideas-turned-brands. At the end of the day, students will have the essential elements of their brands ready for next steps of bringing those ideas to market.
Event details:
General Assembly
1133 15th St NW
Washington DC 20005
https://generalassemb.ly/education/branding-for-innovators-bootcamp/washington-dc/6502
About Aveya Creative
Aveya Creative is proud to be the only boutique branding and marketing agency in the nation's capital dedicated exclusively to entrepreneurs. Our mission is to transform ideas into top-of-mind brands. Core services at Aveya Creative are brand strategy, logos and taglines, pitch coaching and design; optimized copywriting, ad creative, press releases and social media management are also part of the mix. Aveya Creative is proud to develop branding and marketing for entrepreneurs in diverse industries across the US and beyond, including prominent tech startups at accelerators such as 1776 in Washington DC and Y Combinator in San Francisco.
About General Assembly
General Assembly is an educational institution that transforms thinkers into creators through education in technology, business and design at nine campuses across three continents. We are creating a global community of individuals empowered to pursue work they love, by offering full-time immersive programs, long-form courses, and classes and workshops on the most relevant skills of the 21st century – from web development and user experience design, to business fundamentals, to data science, to project management and digital marketing.