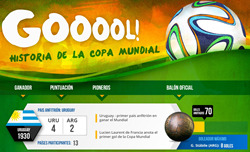 It is important to provide resources in both languages.
Fort Lauderdale, FL (PRWEB) July 01, 2014
DishTVSignUp.com and TribalFootball.com have released another World Cup infographic, but this time in Spanish: La Historia de la Copa Mundial! This compliments their recently released English version graphic which launched just a couple of weeks back. As with the original, they hope to reach a broader audience and pass on some knowledge about one of the most popular sports in the world. With their new partner and co-producer, WorldCupBrazil.net, accomplishing that goal will be well within reach.
A global audience is glued to their screens watching the 2 to 4 daily matches of the 32 qualifying teams. Although many die-hard soccer fans may be ditching their responsibilities at work in order to catch the mid-day matches, a large part of them and the general population as a whole have little to no idea about how the World Cup has evolved over the years. Many of the rules and regulations that are used in soccer today can be attributed to changes made during or in preparation for previous World Cups. As with the English version, this graphic sheds light on every hosting country, every winning team, goal information such as the top scorers and total goals scored in each world cup. More importantly, significant facts are featured on the graphic about things like the first time certain rules were introduced and the first time certain countries or continents participated.
So, why release the same information again in another language? Simple, many Spanish speaking people like soccer; or futbol as is the popular terminology in many communities in the US and worldwide. "We realize that a significant portion of our audience is Spanish-speaking, so we know it is important to provide resources in both languages," stated Claudia Salinas – SEO Manager at Qology Direct. "We went to great lengths to verify that we were translating everything properly. We had several minor challenges such as deciding whether we should list the first official mascot as El León Willie or just World Cup Willie since even some Spanish websites wrote it in plain English." Although the ultimate goal is to provide quality content that promotes engagement and produces new followers, the team at Qology Direct admitted to having a good deal of fun with both creating the original content piece and working on the translation. "When you love what you are working on, other people will love what you worked on too." – Brigitte Mina, Social Media Coordinator at Qology Direct.
About DishTVSignUp.com
DISHTVSignup.com provides an additional venue for consumers to learn about DISH systems. Additionally, they provide information on all things product, industry, news, and programming related for DISH and its current technology via their blog and Facebook page.
About TribalFootball.com
Football never stops. There's something happening every moment of the day in all corners of the football globe. Tribalfootball.com brings you all the latest news in football as it happens. With over two million monthly users, Tribalfootball provides a constant stream of football news stories, trade updates, match reports and opinion pieces every hour of the day.
About WorldCupBrazil.net
WorldCupBrazil.net is the unofficial World Cup Brazil 2014 guide. Stay up to date with the World Cup matches and become an expert in the World Cup universe!