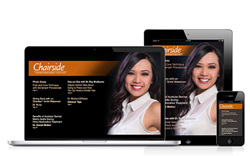 Chairside magazine strives to provoke new ways of thinking and help restorative dentists take their techniques and knowledge to the next level.
Newport Beach, CA (PRWEB) September 16, 2014
Glidewell Laboratories, industry-leading provider of dental laboratory products and services, announced today that the new issue of Chairside® magazine, its restorative-dentistry-focused publication, is now available in print and online. The digital edition of the latest issue, Volume 9, Issue 2, as well as past issues of the dental laboratory's magazine, can be viewed from all popular desktop, tablet and smartphone platforms by visiting http://www.chairsidemagazine.com.
In the featured one-on-one interview, editor-in-chief and clinical editor Dr. Michael DiTolla talks with Dr. David Little, a dentist in the San Antonio area whose practice houses specialists from nearly every field. While he doesn't recommend this strategy for all clinicians, he offers insights on how intraoral scanning technology, implants, and prioritizing patient desires might help solo practitioners combat the encroaching wave of corporate dentistry.
Also featured in the issue is an informative photo essay in which Dr. DiTolla utilizes limited orthodontics in a no-prep veneer case to satisfy the patient's request for a quick, unobtrusive fix. Read the article, view the case photos, and watch the video of Dr. DiTolla performing the case to discover the benefits of using a removable appliance in lieu of brackets and archwires.
Additionally, the issue includes Dr. DiTolla's reviews of new dental products and several articles from leading clinicians, including a case report showing how the use of implants can successfully meet the needs of the aging population, a research-oriented look at the accuracy of the hydraulic and hydrophobic impression technique, a discussion of four common mandibular nerve anomalies that lead to local anesthesia failures, and a demonstration of how monolithic zirconia crowns can satisfy both the esthetic and functional requirements of a case. Plus, in the recurring "Chairside Live" column, Dr. DiTolla presents a recent Case of the Week from the lab's weekly Web series that takes an in-depth look at three different impressions, giving clinicians a peek at the intricacies of a precise impression.
Glidewell Laboratories launched "Chairside Live" in May 2012 as a multimedia supplement to Chairside magazine. The weekly Web video series gives dentists an insider's look at some of the unique and interesting cases processed at the lab, while keeping them informed of the latest dental news. Current and past episodes of "Chairside Live" can be viewed at http://www.chairsidelive.com.
Chairside magazine is published by Glidewell Laboratories and company president/CEO Jim Glidewell, CDT. With each issue, Chairside strives to provoke new ways of thinking and help restorative dentists take their techniques and knowledge to the next level. Featuring clinical tips and techniques, case studies, practice management advice, product reviews and one-on-one Q&A interviews with prominent dental experts, Chairside guides practitioners through the challenging and rewarding tasks the dental profession has to offer.
For anywhere, anytime access to the Chairside magazine digital edition and exclusive online content including case videos, clinical case photos, archived articles and CE tests, visit http://www.chairsidemagazine.com. For more information about Chairside magazine, call 888-303-4221 or email chairsidemagazine(at)glidewelldental(dot)com.