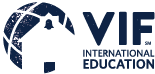 The Global Education Framework is a step towards action and accessibility.
Chapel Hill, N.C. (PRWEB) September 11, 2014
VIF International Education, the leading provider of global education programs for K-12 schools, announced Thursday that the Partnership for 21st Century Skills (P21) has adopted its Global Competency Standards for Students and Teachers. P21 released a Framework for State Action on Global Education that includes these Standards and offers states a comprehensive and actionable strategy to ensure students have the global competencies and international understanding that will prepare them for work and life in the 21st century.
"Teachers, principals, and district and state leaders understand the importance of global skills and knowledge for their students and to their state's economies," said Helen Soulé, executive director of P21. "What has been lacking is an actionable framework for states to take immediate action that moves the global education agenda from boutique school models to a comprehensive state strategy. The Framework is meant to help states move from belief to action to support their students."
The Global Competency Standards, developed by curriculum experts at VIF, are a key part of the Framework in that they provide grade-by-grade indicators for assessing global knowledge and skills for teachers and students. The Standards guide integration of global awareness into classroom practices and help leaders establish learning environments in which teachers and students develop deep cultural knowledge and explore the ways culture influences identities and worldviews.
"The Global Education Framework is a step towards action and accessibility," said David Young, CEO of VIF and chair of P21's task force on global education. "Our goal as a task force was to support the expansion of global education to one that is commonly available to all K-12 students nationwide."
P21's Global Education Framework provides state leaders with six essential elements with which to build robust state strategies for global education. Each essential element includes specific and actionable steps for implementation. The six elements are:
1. Global competency standards for students and teachers.
2. Effective and scalable teacher supports, resources and tools for infusing classroom with global knowledge and skills.
3. A new approach to language instruction that includes statewide dual language/immersion plan beginning in elementary school and refocusing traditional high school world language courses.
4. Whole-school models that include internationally themed schools, transformation models for low-performing schools and regional dual language/immersion schools.
5. Networking and recognizing districts, schools and educators to drive implementation and innovation.
6. Global experiences for students and educators including teacher exchange, educational travel, virtual exchange and global academic competitions.
The complete Global Education Framework and guides can be viewed at p21.org.
###
About VIF International Education
VIF International Education (http://www.vifprogram.com) builds global education programs that prepare students for success in an interconnected world. For more than 25 years, educators have leveraged VIF's professional development and curriculum, language acquisition and teacher exchange programs to generate engaging learning environments where students can excel in core curriculum as well as develop valuable critical and creative thinking skills. A certified B Corp and 'Best for the World' honoree headquartered in Chapel Hill, N.C., VIF provides a pathway for teachers, schools and districts to become globally designated.
About The Partnership for 21st Century Skills (P21)
The Partnership for 21st Century Skills (http://www.p21.org), a national coalition made up of 28 member organizations and 19 state partners, advocates for 21st century readiness for every student. As the United States continues to compete in a global economy that demands innovation, P21 and its members provide tools and resources to help the U.S. education system keep up by fusing the 3Rs (core academic subjects and 21st century themes) and 4Cs (critical thinking and problem solving, communication, collaboration, and creativity and innovation). P21 aims to serve as a catalyst to position 21st century readiness at the center of U.S. K-12 education by building collaborative partnerships among education, business, community and government leaders.
Tags: global-ready, global competence, global awareness, global schools, global education, international education, K-12, teachers, student achievement, 21st century skills, project-based learning, teacher resources, P21