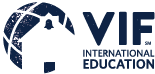 Targeted language learning and cultural competence in diverse classrooms consistently supports student proficiency in a variety of subject areas and helps them develop skills they need to compete in today's global society.
Chapel Hill, N.C. (PRWEB) September 18, 2014
VIF International Education, the leading provider of global education programs for K-12 schools, announced this week that its Splash Language Immersion students outperformed peers on North Carolina End-of-Grade (EOG) tests for the fourth year in a row. Based on 2013-14 results, the state's Splash students are exceeding their peers' test scores by more than 20 percent in reading, 27 percent in math and 13 percent in science on average.
Splash student achievement has remained consistent over time. In the 2011-12 school year, 94 percent of Splash students were proficient in math and 86 percent were proficient in reading, while their non-Splash counterparts averaged 82 percent in math and 65 percent in reading. Dual language students enrolled in VIF's Splash programs also excelled in the 2012-13 school year, boasting 67 and 60 percent passing rates in math and reading, respectively, while their non-Splash peers averaged a 30 percent passing rate in math and 28 percent in reading. All scores remain notable even as new Common Core-aligned testing methods rolled out in the 2012-13 school year.
This year's results confirm the benefits of VIF's unique dual language program model. High academic achievement, language proficiency, increased critical thinking skills, accelerated cognitive development and greater cultural sensitivity all result from students' involvement in the intense language acquisition and intercultural explorations offered by Splash programs.
"We are thrilled to see these achievements from our Splash students. Targeted language learning and cultural competence in diverse classrooms consistently supports student proficiency in a variety of subject areas and helps them develop skills they need to compete in today's global society," said VIF CEO David Young.
The positive impacts of hosting Splash programs extend to entire school communities through school-wide access to Global Gateway, VIF's online system for global professional development and curriculum. Teachers outside of Splash gain access to professional learning opportunities and a robust library of classroom resources and, as a result, learn how to introduce global themes and cultural exploration into their core instruction to broaden the minds and capture the imaginations of their students.
VIF provides comprehensive, turnkey support services to districts that want to bring the benefits of dual language programs to their communities. In Splash Language Immersion classrooms, up to 90 percent of core subject matter is taught in a target language, either Spanish or Mandarin. The majority of VIF's Splash programs are offered in Title 1 schools, and close to 20 percent of schools are two-way immersion programs, serving both Spanish- and English-speaking communities.
Currently, VIF offers 46 dual language programs across the state. The application process to become a Splash school for the 2015-16 school year is already in progress, and interest across North Carolina indicates that more and more students will have vital opportunities to increase their global competency while becoming bilingual and biliterate.
###
About VIF International Education
VIF International Education (http://www.vifprogram.com) builds global education programs that prepare students for success in an interconnected world. For more than 25 years, educators have leveraged VIF's professional development and curriculum, language acquisition and teacher exchange programs to generate engaging learning environments where students can excel in core curriculum as well as develop valuable critical and creative thinking skills. A certified B Corp and 'Best for the World' honoree headquartered in Chapel Hill, N.C., VIF provides a pathway for teachers, schools and districts to become globally designated.
About Splash Language Immersion
Splash programs provide a comprehensive package to develop and maintain consistent, high-quality K-8 world language programs in North Carolina. In a Splash dual language immersion classroom, VIF provides teachers with tools to promote academic achievement through enrichment rather than remediation. Students, in turn, excel in their core studies while becoming bilingual and culturally aware. All Splash teachers receive support and ongoing training, and belong to an online community of educators in the VIF learning center, where they have access to Global Gateway professional development and a robust library of curricular tools and classroom resources.
Tags: language immersion, dual language, world language, bilingual, biliterate, Spanish, Mandarin, global competence, global awareness, cultural awareness, global schools, global education, international education, curriculum, K-12, student achievement, North Carolina schools