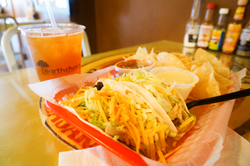 "To now be joining a community like Huntsville, that has boasted so much growth and positivity over the past decade, our team couldn't ask for anything more."- Will Haver, Taco Mama Owner and Founder
(PRWEB) September 15, 2014
Mountain Brook, AL-based restaurant Taco Mama will open it's third location in the newly constructed Twickenham Square commercial space in Huntsville. Developers and management are scheduling an early October opening for the restaurant.
A joint venture with Taco Mama founder and owner Will Haver and local entrepreneurs Chris and Paige Brown, the Huntsville location will bring a fresh and clever selection of freshly prepared tacos, burritos, nachos, and Mexican fare featuring slow roasted meats and the freshest produce and ingredients available. With a large selection of margaritas made with real juices, Taco Mama welcomes its guests to a casual, hip atmosphere.
Chris and Paige Brown will own the restaurant, and they will manage the day-today operations alongside experienced general manager Dave Weand. "We saw this as a great opportunity to be a part of a new development in a city that we live in and love," explains Chris Brown. "We have received so much support from the community, it's exciting, and we can't wait to get started."
With Taco Mama's highly successful 2011 debut in Mountain Brook's Crestline Village, a second location in Tuscaloosa was opened in March of this year to great reviews.
"I just can't say enough about how wonderful our reception has been from people in Mountain Brook and Tuscaloosa," explains Haver. "It's been wonderful to see what was only a vision turn into something real and something that people enjoy."
"To now be joining a community like Huntsville, that has boasted so much growth and positivity over the past decade, our team couldn't ask for anything more."
The 2,105 square foot space, located at 301 Pelham Ave, Suite C8, will be located in Bristol Development Group's Twickenham Square development in downtown Huntsville only a block from Huntsville Hospital and next door to the Artisan at Twickenham Square apartment complex. The development already features a Publix grocery, with other restaurants and retailers joining soon. Bristol Development Group is based in Nashville, TN.
Underneath the umbrella of parent company Wilco Hospitality, Taco Mama Huntsville will be the fourth and most recent addition to the company, with the two other Taco Mama locations, along with Otey's Tavern, a popular Mountain Brook institution for the past twenty-five years.
"Our organization operates primarily on doing whatever we can to provide our guests with the best experience possible. By trying to make the best tacos and burritos with the freshest ingredients available, and by providing people with helpful, friendly service," explains Haver. "The food and the service drive the boat for us, but none of it is possible without our management team led by Director of Operations Robert Rodriguez and with talented and motivated partners like Chris and Paige."
Buildout of the Taco Mama location in Huntsville is managed by David Cox and Wilcox Building Group.
Taco Mama looks to bring another casual dining option to the community of Huntsville and the ever-expanding academic, medical, financial, engineering, and professional community of Huntsville. Taco Mama is an active participant in the charitable efforts in it's current communities.
Taco Mama Huntsville will create over 25 positions for the local economy, and will be administering a job fair for servers, cashiers, and line cooks at the Homewood Suites at Twickenham Square from September 25-27 and October 2-4 from 10a to 6p. Applicants in the area are directed to call 256 519-6262 for hiring information or they may attend the job fair on those dates.
Owner Paige Brown said, "The entire Taco Mama organization has a passion for food, service, and community. We've made our home in Huntsville, and we look forward to bringing a positive addition to what is already a great city that Chris and I both love," said Paige Brown.
——
Taco Mama features a menu of freshly prepared tacos, burritos, nachos, and Mexican fare that has quickly become a hit in the Birmingham area since its debut in 2011. The concept focuses on providing fresh, inventive menu options in a "fast casual" and laid-back atmosphere. Taco Mama has been recognized as "Best Mexican Food" in Village Living's 2013's Best of Mountain Brook Awards. Taco Mama has also been awarded Best Guacamole in Sidewalk Film Festival's Salsa Showdown.
Taco Mama Huntsville is located at 301 Pelham Ave, Suite C8, Huntsville, AL 35801. Learn more about Taco Mama at http://www.tacomamaonline.com or on their Facebook Page, http://www.facebook.com/tacomamahsv. For more information, please contact Harry Long of 81 Shop, LLC at 205 693-8181 or hlong(at)go81shop(dot)com.