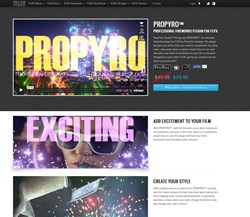 ProPyro is a great FCPX plugin that will compliment any party video, new years show, or sports recap.
Laguna Beach, California (PRWEB) January 02, 2014
Post-production studio and FCPX effects developers, Pixel Film Studios, announced the launch of ProPyro today, a professional fireworks effects pack for Final Cut Pro X.
"ProPyro is a great FCPX plugin that will compliment any party video, new years show, or sports recap," said Christina Austin, CEO of Pixel Film Studios, "It's easy to use, and will add a new level of excitement to your film in minutes."
With ProPyro, users can add fireworks that will compliment any style of film from sports highlights to a graduation recap. It is also easy to use. This plugin will have users' film excitement levels elevated in no time.
With multiple options to select from, ProPyro can help any filmmaker achieve the look they have always wanted. From popping multi-colored aerial fireworks, to sparkling fountains, editors can simply select the style, then change the blend mode color scheme.
With ProPyro, Final Cut Pro X users can alter the blend mode so multiple fireworks can overlay each other creating the ultimate pyrotechnics show for the audience. Editors can wow the viewers with all the excitement of a live fireworks show in the few clicks of a mouse.
ProPyro from Pixel Film Studios is designed to work within FCPX. Editors can simply drag and drop the firework effect they want, change the overlaying blend mode, and adjust the colors and animation options within the FCPX inspector window.
Established in 2006, Aliso Viejo, California-based Pixel Film Studios is an innovative developer of visual effects tools for the post-production and broadcast community. Their products are integrated with popular non-linear editing and compositing products from Apple FCPX. All Apple, the Apple logo, and Macintosh are registered trademarks of Apple Inc. in the U.S. and/or other countries. All other trademarks and trade names are the property of their respective owners.