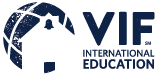 Chapel Hill, N.C. (PRWEB) October 31, 2014
VIF International Education, the leading provider of global education programs for K-12 schools, announced Friday the release of its 2013-14 end-of-year report. The robust report contains compelling case studies and program results that demonstrate the organization's commitment to supporting teachers and, in turn, preparing students to thrive in a global society.
An analysis conducted by the Friday Institute for Educational Innovation at North Carolina State University measured the impact and effectiveness of VIF's Global Gateway system for educator professional development and curriculum. The Friday Institute found that teachers participating in Global Gateway demonstrate critical shifts in practices that include a focus on project-based global inquiry, integration of globally infused content and increased use of technology by students. Teachers also report that participation in Global Gateway helps them understand how to be global educators, provides ideas for their classroom practices, and offers supportive and informative relationships.
The case studies highlighted in the report echo these findings. Elementary School Principal Robert Ash laid out specific goals and objectives for his staff to help express the importance of their participation in Global Gateway professional development (PD). The VIF learning center community and guided format of the PD modules gave teachers the support they needed to know how to complete the work. Teachers expressed that Global Gateway helped them develop as global educators by encouraging creativity and that thinking outside the box allowed teachers to craft their own lesson plans that infuse global themes while addressing core subject matter.
Secondary School Principal Stephen Baker shared how teacher professional development impacts student learning. "The problem of course with 'sit and get' is you don't have to think," said Principal Baker. "[With Global Gateway in place] kids have to think. They are making connections between different countries, different times … Kids are learning how to think in that class because they have to think and then they're going out into social studies, English language arts and math making those same connections."
The Global Gateway system is designed to fit into existing instructional practices in order to enhance what educators are already doing in their classrooms. Anchored in technology, global knowledge and project-based inquiry, its integrated format incorporates expert-created, globally themed lesson plans to help teachers get started quickly, guided professional development modules to expand their knowledge and creativity, and a social learning community to provide continuous support throughout this process.
"The online format of the Global Gateway system provides any district or school with access to ready-to-use resources that help prepare teachers to become global educators," said VIF CEO David Young. "The support provided in our learning center gives teachers the tools they need to get students excited about global learning."
Read the full interactive report at viflearn.com/index.php/year-in-review to learn more and download indicators for students and frameworks for teachers to help measure global competency.
###
About VIF International Education
VIF International Education (http://www.vifprogram.com) builds global education programs that prepare students for success in an interconnected world. For more than 25 years, educators have leveraged VIF's professional development and curriculum, language acquisition and teacher exchange programs to generate engaging learning environments where students can excel in core curriculum as well as develop valuable critical and creative thinking skills. A certified B Corp and 'Best for the World' honoree headquartered in Chapel Hill, N.C., VIF provides a pathway for teachers, schools and districts to become globally designated.
About Global Gateway
The Global Gateway system offers a simple integrated platform for educator professional development, lesson plans and classroom resources, digital badging for achievements and participation in an incredible collaborative community of global educators. Through purposeful ongoing Global Gateway professional development, teachers anywhere in the world can learn to effectively integrate global content into their core instruction.
Tags: global-ready, global competence, global awareness, global schools, global education, international education, professional development, curriculum, K-12, e-learning, social learning platforms, professional learning networks, teachers, student achievement, 21st century skills, edtech, education technology, project-based learning, global inquiry, lesson plans, teacher resources, report