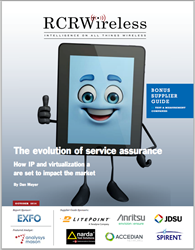 "With mobile penetration at or near saturation, mobile operators need to find ways to ensure that the customers they have are happy with their service--it is more expensive to attract new customers than keeping those they already have.
Austin, Texas (PRWEB) October 13, 2014
RCR Wireless News spoke with more than a dozen companies, including mobile operators like T-Mobile US and Sprint, vendors like Centina Systems and EXFO and industry analyst firms like Analysys Mason and Heavy Reading, to gain deep insight into the current service assurance market. The report, entitled 'The Evolution of Service Assurance - how IP & virtualization are set to impact the market' contains vital takeaways including ascertaining the financial potential for the service assurance market; the need for mobile operators to consolidate network operations in order to trim costs; and managing network resources while at the same time walking a fine line with government regulations. These efforts are going to be further challenged as mobile operators move to transition core voice services to IP-based data networks.
Download this report to learn:

The evolution of service assurance
Market potential for service assurance vendors
How mobile operators are using service assurance platforms to monitor network congestion
How voice over LTE services are set to be a huge test for service assurance
The impact network virtualization will have on the service assurance space
Watch the complimentary editorial webinar featuring:

Dan Meyer, Editor-in-Chief, RCR Wireless News
Anil Rao, Senior Analyst, Analysys Mason
Grant Castle, VP of Engineering, T-Mobile US
Anand Gonuguntla, Co-Founder and CEO, Centina Systems
Thierno Diallo, Product Manager Service Assurance Division, EXFO
"While the service assurance market does appear to have significant growth potential, there remain numerous challenges for both vendors and mobile operators," report author and RCR Wireless News Editor-in-Chief Dan Meyer explained. "Legacy operations, both on the network side and vendor platforms, cannot be left behind as a significant portion of consumers are still reliant on those networks for basic mobile communication needs. However, with operators looking to migrate those customers to more spectrally efficient, IP-based networks, vendors are being tasked with maintaining support for legacy platforms while at the same time integrating new technology to support traffic over LTE networks."
Other key trends identified in the report include how mobile operators are balancing current network traffic in order to ensure service quality while at the same time remaining within regulatory guidelines in terms of not impeding access to Internet services; how many see network function virtualization as a solid test bed for service assurance migration; and how mobile operators are tapping into non-traditional means in order to get a better understanding of the end-use experience.
"With mobile penetration at or near saturation, mobile operators need to find ways to ensure that the customers they have are happy with their service as it remains more expensive to attract new customers as opposed to keeping those they already have," Meyer added. "This is especially important when it comes to high-value customers, which some noted often account for a vast majority of service revenues while only making up a small percentage of a mobile operator's overall customer base."
Click here to download this report.
About RCR Wireless News
Since 1982, RCR Wireless News has been providing wireless and mobile industry news, insights, and analysis to industry and enterprise professionals, decision makers, policy makers, analysts and investors. Our mission is to connect, globally and locally, mobile technology professionals and companies online, in person, and now on video. Our dedication to editorial excellence coupled with one of the industry's most comprehensive industry databases and digital networks leads readers and advertisers to consistently choose RCR Wireless News over other industry publications. http://www.rcrwireless.com