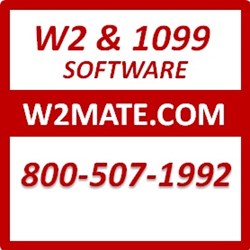 Our team invested significant time and effort to develop an easy to use 1099-MISC printing and E-filing solution.
Chicago, IL (PRWEB) January 27, 2014
With the 2013 1099-MISC filing deadline a few days away, W2 Mate software is helping small businesses and accounting firms process 1099 Miscellaneous forms on paper and electronically. W2 Mate (http://www.W2Mate.com/) saves users time and money by printing recipient copies of forms 1099-MISC and W-2 on regular white paper. The program also makes 1099 forms electronic filing as simple as uploading a file.
Real Business Solutions (http://www.W2Mate.com), provider of 1099 preparation solutions, announced today that its 1099-MISC software is now available for immediate purchase and download from its website at W2Mate.com. The tax software offers a suite of highly productive features to help corporations, small businesses, accounting firms, and 1099 service providers manage the whole cycle of preparing 1099 Miscellaneous Income forms including typing, importing, modifying, validating, printing and E-filing with IRS FIRE System.
W2 Mate Software trial can be downloaded by visiting http://www.W2Mate.com/download.html.
1099s are not just one form, but a class of forms that provide the Internal Revenue Service with an information return. An information return is a tax document that businesses are required to file to report certain business transactions to the IRS. These transactions vary from interest income, real estate transactions, sales of securities, charitable gift annuities, and capital gains distributions, but the most common for small business owners are payments to independent contractors or vendors
W2 Mate Software Highlights:
Prepares unlimited number of 2013 1099 and W-2 tax forms for multiple employers and payers;
Fills in pre-printed 1099 Copy-A forms and prints other 1099 copies such as recipient and payer copies on plain paper using black ink;
Complies with 2013 IRS Specifications for Filing Forms 1099 electronically and complies with SSA Specifications for Filing Forms W-2 Electronically (EFW2);
Generates ready-to-email 2013 W-2 forms and 1099 forms which eliminates the need to print and email W2s and 1099s;
Government -approved to print W-2 and W3 tax forms on regular paper including federal copies;
Data import from leading tax, accounting and CRM software applications including Microsoft Dynamics (Great Plains), Intuit QuickBooks Payroll (W2s) and vendor (1099s), Sage Peachtree, Sage DacEasy, Excel and CSV;
Efficient and intuitive manual W2 / 1099 data entry;
Supports 1099MISC, 1099K, 1099INT, 1099DIV, 1099R, W2, W3, 1096, 1099S, 1098T, 1098, 1099A, 1099B, 1099C, 1099PATR, 1099OID;
Automatically calculates Social Security and Medicare taxes for paper filers 1096 and W3 are automatically generated;
Supports Windows 8, Windows 7, Windows Vista, Windows XP, Windows Server 2003, Windows 2000 or Windows 98;
Roll-over of payer and recipient information from year to year;
Password protection and data validation;
Generates printing labels, form totals and recipient lists;
Prompt, courteous and reliable US-based support through phone, chat or e-mail;
Network ready with affordable pricing for multiple seats;
Exports W2s and 1099s to excel;
Data Backup and restore;
TIN matching and verification including reports for missing TINs and TIN matching errors;
Inexpensive;
Completes employer electronic W-2 forms;
Auto generates control numbers for W-2 Forms;
Complete 1099 electronic filing software for accountants, CPAs and small business
A free 2013 1099-MISC printing and e filing software evaluation can be downloaded from http://www.W2Mate.com. Customers can purchase the software and receive it instantly.