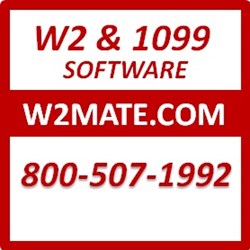 Focused on affordability, ease of use and efficiency, W2 Mate is great for both business filers and accounting professionals processing W2 and 1099 tax forms.
Chicago, IL (PRWEB) January 31, 2014
Today January 31, 2014 is the deadline to send 1099 forms to recipients. W2 Mate software (http://www.W2Mate.com/W2-Mate.html) helps employers and tax professionals print recipient 1099 form copies on regular white paper and generate ready-to-email 1099 forms for last minute filers.
W2 Mate supports filing tax forms W2, 1099-MISC, 1099-INT, 1099-DIV, 1099-R, W-3, 1096, 1099-S, 1098-T, 1098, 1099-A, 1099-B, 1099-C, 1099-K, 1099-PATR and 1099-OID
W2 Mate 2013 is available for download from http://www.W2Mate.com/download.html.
W2 Mate saves users time and money by printing 2013 / 2014 1099-MISC forms copy B and Copy C on regular white paper. This eliminates the need to buy expensive laser red-ink forms. All substitute forms generated by this 1099-MISC software comply with 2013 IRS publication 1179 (General Rules and Specifications for Substitute Forms 1096, 1098, 1099, 5498, W-2G, and 1042-S).
Instead of printing recipient 1099s on blank paper or pre-printed forms, W2 Mate ( http://www.W2Mate.com/ ) can create an encrypted, password protected PDF file for each vendor (contractor). In order to open the PDF files, recipients would use their Tax ID (SSN) and the city name portion of their address. Emailing password-protected PDF 1099 forms is probably more secure than paper forms which could be stolen or lost in the mail.
According to 2013 IRS regulations, penalties may be assessed for failure to file correct information returns (1099, 1098 and other similar tax forms) by the due date, without reasonable cause. This includes Form 1099-MISC. The penalty may also apply if the filer shows incomplete or incorrect information, or files on paper when required to file electronically. Businesses and accounting professionals required to process IRS Form 1099-MISC this year can rely on W2 Mate for all their 2013 / 2014 filing needs.
W2 Mate is the perfect software program for business filers looking for answers to questions like how to fill out a 1099 MISC form, how to e-file 1099MISCs for 2013, how to send form 1099 copy to state of Ohio, how to process 1099-MISC using QuickBooks, how to print 1099 MISC on preprinted forms and many other similar questions.
By integrating with the best-in-class enterprise accounting, tax and payroll applications, W2 Mate provides W2 1099 filers with the ultimate solution for information return and tax form processing for the 2013 / 2014 season. W2 Mate can import data from Microsoft Great Plains, Microsoft Dynamics GP /SL, Sage MAS 90, Sage MAS 200, SAP, Intuit QuickBooks, Sage Peachtree, Sage 50 and many more.
1099 electronic reporting is a safe and secure method of filing 2013 1099 data and provides filers with a unique confirmation number for each successfully submitted return. The W2 1099 electronic reporting module inside W2 Mate 2013 software prepares an unlimited number of E-File transmittals which comply with the Internal Revenue Service's publication 1220 and SSA EFW2 specifications.
Give the W2 Mate a test drive and start saving time and money while processing 1099s. Visit http://www.W2Mate.com/download.html .