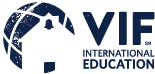 The learning center is an integral part of our school-based programs and we're committed to continuously improving the platform based on feedback from our users.
Chapel Hill, N.C. (PRWEB) November 26, 2014
VIF International Education, the leading provider of global education programs for K-12 schools, announced Wednesday the release of the latest version of its online learning center for educators.
The VIF learning center is an integrated platform that offers Global Gateway professional development and curricular resources for teachers, digital badging, and a collaborative community of more than 8,000 global educators worldwide.
"The learning center is an integral part of our school-based programs and we're committed to continuously improving the platform based on feedback from our users," said VIF Director of Product Development Nitya Mallikarjun. "We're passionate about providing our teachers with a great user experience throughout their journey with VIF - whether they are U.S. teachers or part of our Cultural Exchange Teacher program - and we hope the new version of the learning center will delight our teachers, school administrators and all our partners alike."
The latest release features a completely revamped user interface and sitewide navigation upgrades to provide users with an improved experience on desktop and mobile devices. The site is now faster and more responsive, which also enables easy scalability as the global teacher community continues to grow.
In addition to a fully redesigned homepage and blog, users benefit from a brand-new launch page upon logging in that highlights both new and classic features and assists with in-site navigation. VIF also added a classroom partnerships tool to the platform to facilitate virtual exchanges that connect students, teachers and experts around the world as they study related topics and work on similar projects.
The platform also incorporates VIF's admissions center for Cultural Exchange Teacher applicants to manage collection and submission of documentation as they prepare to apply for teaching positions at U.S. schools, and will soon include PDOT, a pre-departure orientation training course for international teachers selected to fill these positions.
School administrators and educators can check out the updated VIF learning center for free by registering at viflearn.com.
###
About VIF International Education
VIF International Education builds global education programs that prepare students for success in an interconnected world. For more than 25 years, educators have leveraged VIF's professional development and curriculum, language acquisition and teacher exchange programs to generate engaging learning environments where students can excel in core curriculum as well as develop valuable critical and creative thinking skills. A certified B Corp and 'Best for the World' honoree headquartered in Chapel Hill, N.C., VIF provides a pathway for teachers, schools and districts to become globally designated.
About Global Gateway
The Global Gateway system offers a simple integrated platform for educator professional development, lesson plans and classroom resources, digital badging for achievements and participation in an incredible collaborative community of global educators. Through purposeful ongoing Global Gateway professional development, teachers anywhere in the world can learn to effectively integrate global content into their core instruction.
Tags: global-ready, global competence, global awareness, global schools, global education, international education, professional development, curriculum, K-12, e-learning, social learning platforms, professional learning networks, teachers, student achievement, 21st century skills, edtech, education technology, project-based learning, lesson plans, teacher resources, global learning