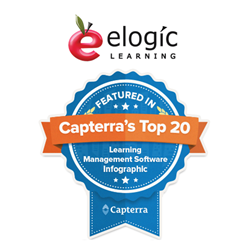 When our clients voluntarily reach out to a reputable group like Capterra to tell their story of their experience with eLogic, that speaks loudly to me. - eLogic Learning CEO Mark Anderson
Tampa, FL (PRWEB) November 07, 2014
eLogic Learning, an industry leading Learning Management System (LMS) and solutions provider, has been recognized in Capterra's Top 20 Most Popular LMS Software List for 2014.
For over 14 years, Capterra has assisted thousands of companies as a trusted business software service that provides resources to help companies find the right technology solutions that meet their needs.
"While helping thousands of businesses find the right software over the years, we recognized that many training professionals are looking to answer the question: 'Which of these options is the most popular?'" says Capterra Co-Founder Ryan Yeoman. "We encourage prospective software buyers to take a deep dive into the industry to find the software that best fits their needs, but we decided to create the Top 20 Most Popular LMS Software Infographic to provide an objective answer to that common question."
Capterra's Top LMS Software list is updated quarterly to reflect the rapid changes in the hundreds of providers and offerings that make up the learning management software industry. The unique "popularity index" used by Capterra to determine which LMS solutions will make the list is based on total number of customers, active users, client feedback and web presence.
"The research presented here differs from other software industry studies in that we do not take revenue into account when calculating market share. We feel revenue often skews the results in favor of companies that release their revenue publicly, as well as higher-priced technology solutions," Yeoman states. "By removing the revenue aspect of the market share equation, Capterra's algorithm shows more accurately which solutions are most preferred in the LMS market."
Capterra's Top LMS Software rankings have seen a number of changes since its last update in June of this year. eLogic Learning appears for the first time on the list as a result of the company's increasing customer base with over five million monthly users as well as its growing visibility and social media following.
"We're honored to be named as one of the Top 20 LMS Software providers as it reflects our commitment to product improvement and meeting the demanding needs of the LMS user base," states eLogic Learning CEO Mark Anderson. "When our clients voluntarily reach out to a reputable group like Capterra to tell their story of their experience with eLogic, that speaks loudly to me."
"eLogic Learning has received consistently good reviews from their clients, and we're excited to see them break into the Top Most Popular LMS list," says Yeoman.
About eLogic Learning
For more than a decade, eLogic Learning (eLogic) has been providing excellence in Learning Management Systems (LMS) as a recognized leader in the eLearning industry.
The eLogic eSSential LMS supports over five million monthly users and was once again named a Top 5 LMS by E-Learning 24/7 in 2014. The eSSential LMS makes it easy to manage eLearning, instructor-led and virtual training events, keep up with regulatory and compliance requirements, analyze training usage and results, sell courses online with robust ecommerce features, and much more.
In addition to its Learning Management System, eLogic develops custom eLearning content and provides an extensive third-party courseware library. With a comprehensive turnkey approach to implementing learning strategies, eLogic offers professional services and proven expertise in content strategy, business process change and the development of corporate training programs.
For more information, visit elogiclearning.com.