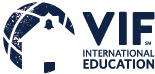 ...kids want to come to school and teachers want to come to work. We knew that global was going to help our kids learn.
Chapel Hill, N.C. (PRWEB) December 16, 2014
VIF International Education, the leading provider of global education programs for K-12 schools, announced Tuesday that Holt Elementary, a year-round language academy magnet school in Durham, North Carolina has selected VIF's Passport program to bring globally themed professional development to its teachers in order to prepare students to become global citizens.
A few short years ago, Holt Elementary faced declining enrollment and downward trending student achievement. After touring an existing VIF Passport Global School, Holt Principal Star Sampson knew the school model was a perfect fit and would complement the Spanish and Mandarin language programs the school had planned to introduce.
"You have to have meat and potatoes to put with the Common Core. Global makes it real - it makes it fun. It makes kids want to come to school and teachers want to come to work. We knew that global was going to help our kids learn," said Principal Sampson.
Starting in kindergarten, each Holt student chooses to join the Spanish or Mandarin language track with the goal of becoming conversationally fluent by the end of fifth grade. All students at the school receive instruction that is enhanced by exploration of world cultures. As kindergarteners, students start their journey in North America; they study South America in first grade, Asia in second, Africa in third, Oceania in fourth and Europe in fifth grade.
As part of the Passport program, teachers complete globally themed professional development, create their own inquiry-based global lesson plans and learn how to integrate connections to their respective world regions of focus within their daily instruction. They also have access to a robust library of expert-created resources and a community of educators around the world in VIF's learning center.
"The question is no longer, how do I teach global content AND the common core standards … the global theme has given us a platform for which to teach all of our common core objectives in a very meaningful way," said Carly Peace, a fifth-grade teacher at Holt Elementary.
Since becoming a Passport Global School, levels of enthusiasm for and commitment to global learning among Holt's teachers have skyrocketed and the school's student population has increased by more than 20 percent. Teachers and administrators report that teaching core skills through a global lens has dramatically increased development of those skills in students as their engagement is focused on interesting world topics rather than complex skill development.
"Our kids are more on fire for learning than ever before," said Ms. Peace. "They attack reading passages with vigor and enjoy the research that they are doing - when in past years they may not have had such a positive reaction to the same tasks. We are still able to teach the same skills they have always needed to learn, but by tying back into the global focus, they have a vested interest in the topic so the skill doesn't seem so abstract and challenging."
###
About VIF International Education
VIF International Education builds global education programs that prepare students for success in an interconnected world. For more than 25 years, educators have leveraged VIF's professional development and curriculum, language acquisition and teacher exchange programs to generate engaging learning environments where students can excel in core curriculum as well as develop valuable critical and creative thinking skills. A certified B Corp and 'Best for the World' honoree headquartered in Chapel Hill, N.C., VIF provides a pathway for teachers, schools and districts to become globally designated.
About Passport
Supported by the foundational components and benefits of the Global Gateway system, Passport builds teacher and leadership capacity in global education to promote rigorous, enthusiastic student learning. Passport Global Schools are distinguished by school-wide efforts and commitment to project-based inquiry and student-led learning through globally minded leadership and staff, and sustained, meaningful global exchange to foster authentic learning.
Tags: global-ready, global competence, global awareness, global schools, global education, international education, professional development, curriculum, K-12, e-learning, social learning platforms, professional learning networks, teachers, student achievement, 21st century skills, edtech, education technology, project-based learning, lesson plans, teacher resources, global learning, language learning, student achievement