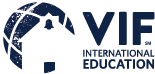 I believe this great experience has given me the chance to grow professionally and to be confident that I can make an impact in any job opportunity I may have.
Chapel Hill, N.C. (PRWEB) December 30, 2014
VIF International Education, the leading provider of global education programs for K-12 schools, announced Tuesday the launch of Write Your Story, a campaign to reach teachers around the world who are interested in gaining unique personal and professional experiences by teaching in the United States.
Write Your Story features international teacher testimonials and candid video interviews to give potential applicants a glimpse into what they might experience as part of VIF's Cultural Exchange Teacher program. If selected, teachers join a group of more than 650 visiting teachers who already serve in traditional or dual language K-12 classrooms in North Carolina, South Carolina and Virginia.
Cultural Exchange Teachers bring authentic international perspectives to U.S. classrooms as they share their languages and customs with students, colleagues and communities. They promote peace and understanding, the importance of global education, and serve as goodwill ambassadors when they return to their home countries.
VIF staff members provide continuous support to international teachers selected to participate in the Cultural Exchange Teacher program through pre- and post-arrival trainings, one-on-one coaching and through ongoing professional development offered in VIF's learning center.
"Our Cultural Exchange Teachers give so much of themselves to their students, but many say they receive even more in return," said Laura Tobal, director of teacher resources at VIF. "The initial adjustment can be difficult, but teachers grow personally and professionally."
"As a teacher in the United States, I acquired many new teaching skills, learned how to implement a new curriculum, worked with diverse students and constantly looked for ways to enhance their learning," said Mariela Quiros, VIF Cultural Exchange Teacher alumna. "I believe this great experience has given me the chance to grow professionally and to be confident that I can make an impact in any job opportunity I may have."
VIF will continue to collect and share stories from Cultural Exchange Teachers via Twitter and Facebook using the hashtag #writeyourstory. Educators interested in participating in the program are encouraged to begin the application process at vifprogram.com/teach-with-vif.
###
About VIF International Education
VIF International Education builds global education programs that prepare students for success in an interconnected world. For more than 25 years, educators have leveraged VIF's professional development and curriculum, language acquisition and teacher exchange programs to generate engaging learning environments where students can excel in core curriculum as well as develop valuable critical and creative thinking skills. A certified B Corp and 'Best for the World' honoree headquartered in Chapel Hill, N.C., VIF provides a pathway for teachers, schools and districts to become globally designated.
About Cultural Exchange Teachers
Cultural Exchange Teachers are selected through a rigorous multistage screening and evaluation process, ensuring that every school is presented with a highly qualified group of international teachers ready to successfully impact student achievement.
VIF provides ongoing training and support to aid Cultural Exchange Teachers in their transition into North Carolina, South Carolina and Virginia schools and communities. All international teachers at Cultural Exchange, Splash and Passport Schools also join an online community of educators in the VIF learning center, where they have access to Global Gateway professional development and a robust library of curricular tools and classroom resources.
Tags: global-ready, global competence, global awareness, global schools, global education, international education, professional development, curriculum, K-12, e-learning, social learning platforms, professional learning networks, teachers, international educators, student achievement, 21st century skills, edtech, education technology, project-based learning, lesson plans, teacher resources, cultural exchange