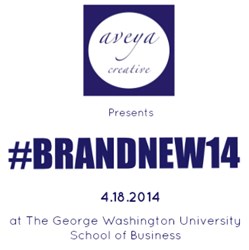 A unique gathering of top startup Founders and CEOs, MBA professors, and branding and marketing experts sharing best practices with entrepreneurs launching new brands.
Washington DC (PRWEB) February 20, 2014
Aveya Creative, DC's first branding and marketing agency dedicated exclusively to entrepreneurs, announced today that it will be presenting BrandNew '14 on April 18, 2014 at The George Washington University School of Business.
BrandNew '14 will feature roundtable discussions with top Founders and CEOs of startups in Washington DC and beyond, distinguished MBA professors, and branding and marketing experts. Participants will be exposed to innovative insights, best practices and actionable tools they can implement to best market their business ideas, generate buzz and online traffic, and ultimately place their new brands in the spotlight.
The event will take place on Friday, April 18, 2014 from 11:00 am to 3:30 pm at The George Washington University School of Business (GWSB) located at 2201 G Street NW, Washington DC 20052. Special thanks to BrandNew '14 event partners: GW Graduate Marketing Association and GW Entrepreneurship Club.
Featured Speakers and Topics:

Mariya Bouraima, Founder, Aveya Creative: "What's in a Brand? Beyond Logos + Taglines" and "Flash Pitch: Winning Over the 10-second Attention Span"
Adam Segal, Founder, Cove: "Productivity is Priceless. Define Your Productive: Lessons Learned From One DC Startup"
Martin Ringelin, Founder, Nvite: "Designing Your Pitch - And, letting it speak for itself"
Shahab Kaviani, Co-Founder, CofoundersLab: "Finding the Perfect Cofounder for Your Startup"
Pete Erickson, Founder, Modev: "Make Your Brand a Mobile Maverick"
Nicole Krug, Founder, Social Light: "Content is King: How to Reign Over Social Media"
Terrance Green, Founder, Truxton Creative: "Your Message, Your Way: Video Storytelling"
Tom Novak and Kevin May, Professors of MBA programs, GWSB: "Guerrilla Analytics – (Almost) Free Insights from Social Media"
Julius Talvik, Co-Founder, Unison: "Ultimate UX = Ultimate Success"
To register for this free event, please visit:
BrandNew14.eventbrite.com
---
Aveya Creative is proud to be the first boutique branding and marketing agency in the nation's capital dedicated exclusively to entrepreneurs. Our mission is to transform ideas into top-of-mind brands. Core services include brand strategy, logo design, optimized copywriting, advertising, social media engagement, press releases and pitch coaching. The team at Aveya Creative has developed branding and marketing for entrepreneurs in diverse industries across the United States, including prominent tech startups at incubators such as 1776.