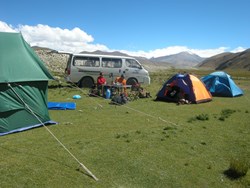 Tibet travel 2014, no hesitate to contact local agency in Lhasa now!
Lhasa, Tibet (PRWEB) October 29, 2013
With Tibet travel becoming easier than ever before travelers around the world are planning to pay a visit in 2014. Many flock to Tibet to enjoy unmatched high altitude beauty; a developing tourist infrastructure has brought comfortable hotels with modern amenities and more convenient access to many of its most famous destinations. To help travelers get started with planning their adventure Tibet Ctrip Travel Service-TCTS (http://www.tibetctrip.com) discusses some of Tibet's most popular, and most beautiful, places.
Mt Everest: Peaking at 8,848 meters this is the tallest mountain in the world and is the crown jewel of a Tibet tour for many travel groups. The best time to visit is April through Late May along with September and October. Visitors can stay overnight near base camp and, with a bit of luck, wake up to crystal clear views of Everest.
Mt Kailash: Hindus, Tibetan Buddhists, Bon and Jain revere this place as a holy site. Many people of these faiths believe that the ritualistic trek around the base of Kailash cleanses ones soul of anger, fear, and prejudice. Travelers of all faiths are welcome to join in the 3 day trek around its base! Located in the far western Tibetan region of Ngari giving travelers the opportunity to experience a large cross-section of Tibet.
Lake Yamdrok: Snow-capped peaks surround this beautiful mountain lake. On clear days Yamdrok shines a beautiful blue hue! Only a short drive from Lhasa, this is one of the most accessible places to enjoy Tibet's natural beauty. Even those on a short visit can make the trip.
Whether trekking, mountain biking, or just enjoying a relaxing sightseeing tour breath taking scenery is around every corner. A developing tourist infrastructure makes these previously hard to get to places accessible for nearly all who visit Tibet. 2014 is coming up quick; travelers are encouraged to start planning their Tibet tours now.
Devin Moore, author of this release, is a travel writer and independent economic analyst based in Denver, Colorado USA. In partnership with local Tibet travel agency TCTS (tibetctrip.com), Devin publishes Tibet travel related information in order to spread awareness of Tibet and its people.