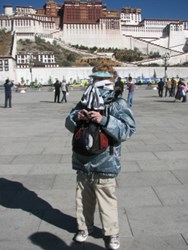 Travel to Tibet in lower season, avoid crowded and save money for next destination!
Lhasa, Tibet (PRWEB) November 03, 2013
Savvy travelers are taking Tibet travel during the winter months in record numbers. While many associate winters in Tibet with heavy snow and bitter cold Lhasa remains hospitable throughout the year. Those who visit during the low season are in for a unique cultural experience without smaller crowds than the summer. Tibet Ctrip Travel Service-TCTS (http://www.tibetctrip.com) has been operating Tibet tours for over ten years and discusses what travelers are likely to encounter during a wintertime visit.
Lhasa is home to world famous cultural and historical sites. Visitors can walk where Dalai Lamas have walked for centuries and learn a great deal about Tibet at places like Potala Palace, Jokhang Temple, and Norbulingka. After a day of sightseeing, warm up with a bowl of Tibetan Noodles or a few cups of yak butter tea! With all the things to do in Lhasa visitors can stay busy for days.
Weather in Lhasa remains bearable but other regions of Tibet may be inaccessible. Travelers shouldn't expect to be able to visit more remote destinations such as Mt. Everest or Mt. Kailash; temperatures here will be absolutely frigid and it may even be impossible to get there! In any case, pack for sub-freezing temperatures. Should anyone arrive unprepared worry not, lots of shops in Lhasa sell winter weather gear.
Visiting Tibet during the winter can be a great way to escape the crowds that flock to popular sites during the high season; those who make the trip during the winter are likely to see a Tibet that other visitors miss out on. While travelers will need to stick to Lhasa throughout much of the winter there are no shortage of opportunities to learn about Tibetan history and culture. Also, while the weather is bearable in Lhasa come prepared for cold temperatures. With winter coming up fast, travelers are encouraged to start planning their Tibet tours now.
Devin Moore, author of this release, is a travel writer and independent economic analyst based in Denver, Colorado USA. In partnership with local Tibet travel agency TCTS (tibetctrip.com), Devin publishes Tibet travel related information in order to spread awareness of Tibet and its people.