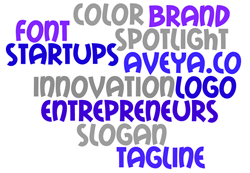 No matter how you go about launching your idea, it's important to keep in mind why you're doing so. What's the soul of your brand?
Washington DC (PRWEB) February 27, 2014
The ­American Marketing Association defines a brand as "a name, term, design, symbol, or any other feature that identifies one seller's good or service as distinct from those of other sellers." Boring, yes, but accurate. The challenge is developing the perfect name, term, design, symbol or feature that makes a new brand stand out above the rest.
Aveya Creative takes a novel approach to traditional branding while maintaining a solid foundation for every new brand that comes through their doors. Well, co-doors. The Aveya team can be found in any corner of the city at a given time, thanks to a fantastic spot at Cove, DC's newest, most flexible and inviting co-working space. Truly a productive oasis for creative types who are always on.
No matter where or how a startup team decides to go about launching their idea, it's important to keep in mind why they're doing so. What's the soul of the brand? The driving force of a strong brand doesn't come just from how it looks and sounds. A brand succeeds with the passion and vision of its leadership that shines through the dedication and ongoing innovation of its team.
Once these key elements are achieved, only then is an idea ready to be 'branded.' These time-efficient, money-saving tips help guide the visual and verbal cues that a brand needs to convey its promise to consumers.

You know you've made it when your brand name replaces a commonly used word! We can unanimously agree that Google is synonymous with the verb 'search'.
1. Made-­up names are easier to trademark/register
2. Uncommon words or made-­up names stand out more clearly in consumers' minds
3. Be sure the name is short and easy to pronounce
A unique color combination used consistently across brand communications online and offline makes the brand easy to recognize even in different languages.
1. Custom typography is expensive and often unnecessary. Choose an existing font that is used sparingly. Avoid everyday fonts like Arial or Times.
2. Remember that handy color wheel from grade school art class? Focus on contrasting colors. For example, blue and orange complement each other well, while white and yellow together are hard on the eyes.
To clarify, a tagline stays with the brand for an extended period of time, while a slogan is used for specific marketing campaigns.
1. Keep the phrase down to 3 or 4 words.
2. It should explain what your brand does and/ or emphasize the brand's promise.
3. Test it on friends, family and wider audiences to be sure people outside the company get it.
Keeping the brand alive is key. While it's important that the essential brand promise remains constant, don't hesitate to rebrand when the concept evolves past its original version. Entrepreneurship and innovation go hand in hand. For continued advice on developing a new brand or refreshing a long-standing brand, the team at Aveya Creative is always happy to help.
--
Aveya Creative is proud to be the first boutique branding and marketing agency in the nation's capital dedicated exclusively to entrepreneurs. Our mission is to transform ideas into top-of-mind brands. Core services include brand strategy, logo design, optimized copywriting, advertising, social media engagement, press releases and pitch coaching. The team at Aveya Creative has developed branding and marketing for entrepreneurs in diverse industries across the United States, including prominent tech startups at incubators such as 1776.