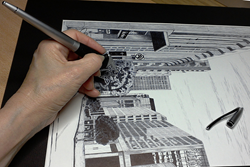 For me, a pen is not just a writing instrument, it is a tool of my art. The Yoropen is well-balanced, comfortable and ink flows smoothly.
Washington DC (PRWEB) September 10, 2014
People are excited and getting their hands ready for the new Yoropen Z3! A little over halfway through its Kickstarter campaign the world's best ergonomically designed pen has found success. With over 400 people backing the project thus far, and thousands talking about it, the Yoropen has surpassed its $30,000 funding goal. The project still has about two weeks to go, so there is still plenty of time to get your hands on one of the first Yoropen Z3s at http://kck.st/1pJPKIT.
With the guaranteed success of the project, the Yoropen team has allocated funds through loans to begin the production process of the pens earlier than planned. This will ensure delivery of the pens to backers by early December in time for the holiday season.
The Yoropen Z Series has been acclaimed by professionals for its ergonomic design, comfort of use and distinctive style. Artists also find it to be the perfectly tailored writing instrument for their creations.
Ballpoint pen artist Jane Cummings was eager to get her hands on one of the new Yoropen Z3 prototypes. After working with the pen for nearly 40 hours on a drawing, Ms. Cummings stated that while using the Yoropen, she didn't feel any of the sharp pains or cramping that she usually experienced in her hand and wrist after so many hours of drawing. As a left hander, she was also pleasantly surprised at how quickly she could adapt to the shape of the pen in just 10 minutes. Her full review tells the story here.
The Yoropen Z3 makes for the perfect gift for any friend or relative, or a nice treat for yourself. Readers are invited to discover what all the hype is about and can back the Yoropen project on Kickstarter.