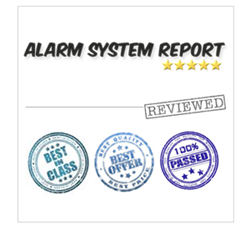 When trying to decide on the best alarm system company homeowners should read the experts reviews on AlarmSystemReport.com
Raleigh, North Carolina (PRWEB) February 05, 2014
AlarmSystemReport.com has awarded FrontPoint Security, LifeShield Home Security, Protect America, ADT Security, and Vivint Home Security as 2014's best alarm system companies in the United States.
From the many companies competing in the industry, the above-mentioned alarm system companies were chosen by AlarmSystemReport.com because of their high scores in the following aspects: affordability, customer service, ease of installation, equipment quality, customer support, and warranty.
AlarmSystemReport.com wrote that most of FrontPoint's alarm systems are customized to the needs of the customers. They offer homeowners the chance to configure their own system through their online store. They also have Security Consultants that are ready to provide recommendations and assistance to interested homeowners. Pre-made packages are also available.
The up-front cost of systems offered by FrontPoint is calculated based on how much equipment is needed by the homeowners. Contract terms of one year and three years are available. Automatic discounts are also provided to customers based on which length of contract they avail of.
In its review, AlarmSystemReport.com wrote that LifeShield's best asset is that it makes purchasing alarm systems easier on the homeowner's pockets with its low costs. Its affordable pricing arrangements were made possible because it utilizes proprietary equipment.
There are a number of different home security kits available at Lifeshield. These kits could be purchased as is or customized to fit one's needs. There also company representatives who could help customers choose the kit that is suitable for them or help them design a customized system.
What makes Protect America attractive, according to AlarmSystemReport.com is that it offers systems at no cost with five different equipment packages to choose from. These packages allow customers to have any system of their choice at the same cost. On top of this, it also offers a lifetime warranty on the equipment.
ADT, on the other hand, is noted by AlarmSystemReport.com to be likely the most well identified alarm system company worldwide as it offers services in North America, South America and Europe. It offers solutions for home and business security systems, fire alarm systems, and integrated building management. It uses equipment from different manufacturers giving customers a chance to choose from more selections and pricing arrangements.
Admittedly, ADT doesn't offer the same value for the customer's money compared to other featured alarm companies. But finding a great ADT dealer and negotiating a great deal for a specific set-up will not make ADT a bad choice at all.
Lastly, AlarmSystemReport.com's review of Vivint revealed that this company could boast of its intuitive TouchScreen Control Panel and its abundant offering of wireless sensors and home automation devices. It offers three packages to choose from up-front that correlate with their monthly monitoring prices. It could provide a good amount of equipment a good value but purchasing additional equipment from them could be pricey.
Each one of these featured alarm systems has it's own advantages and disadvantages. But AlarmSystemReport.com assures its readers that at least of these systems would match their protection needs and preferences.
About AlarmSystemReport.com
AlarmSystemReport.com is a one-stop information center for wireless, cellular, and do-it-yourself alarm system companies. It provides comprehensive reviews of the different alarm systems with the help of home security and automation experts in the industry.