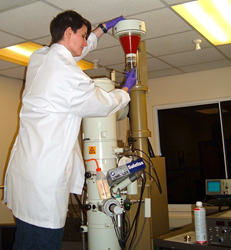 ATG Training is working with some amazing companies, based right here in the Thames Valley who are looking for bright apprentices to start this year.
Thames Valley (PRWEB UK) 28 February 2014
The Aylesbury-based training centre is bringing new career opportunities to young women in the Thames Valley region by promoting engineering apprenticeships for girls aged 16 to 24.
The 'Girls Allowed' campaign was originally piloted in Essex, and has seen nationwide interest following research by trade body Engineering UK that found that just 8.7% of professional engineers in the UK are women; the lowest figure in Europe, despite the UK's long-term reputation for engineering excellence.
ATG Training was originally founded in 1967 by a consortium of engineering companies, to train engineering apprentices. Despite since evolving to offer a broad range of vocational training, ATG has stayed true to its roots, maintaining strong relationships with the region's engineering business community.
Stephen Smyth, from ATG Training explains why the company took up the challenge to recruit more girls in to engineering. "Engineering is a fantastic career," explained Stephen. "We are working with a really diverse range of business in the region, and just last week we were delivering awards to our engineering apprentices from last year. We have apprentices in companies like EIS-Axon, who make electronic components for companies all over the world, Norston DAGE, who research and manufacture world-leading industrial x-ray equipment, and Martin Baker, the world's leading designer and manufacturer of aircraft ejection seats."
As a new raft of girls get ready to leave school or college, Stephen believes that a paid engineering apprenticeship is a worthwhile alternative to university, and one that can be equally rewarding for girls.
"Society can colour the way girls think," explains Stephen. "If you picture in your mind what an engineer is, it's probably someone covered in grease holding a spanner. In reality, we can be structural, medical or any kind of engineer. The companies we work with are innovative and exciting, lots of engineering work is computer and design based and offer really exciting opportunities."
"Our most recent success story is Fay Chicken (pictured), who started an engineering apprenticeship with ATG Training, has gone on to study through Oxford University and will shortly be travelling to Geneva to take up an engineering role with CERN – the location where Sir Tim Berners-Lee invented the World Wide Web in 1989. Engineering is a fantastic career choice and we want to see more girls taking up the opportunities available in the Thames Valley area."
As we approach the end of the school year, the Thames Valley Girls Allowed campaign is reaching out to girls aged 16 to 24 who may be doing GCSEs, A Levels, or even those who are currently employed. An interest in maths and science or design is desirable. "People who think logically and who are interested in how things work make perfect engineers," explains Stephen. "Everything we touch from the roads we drive on to the cutlery we eat with has had something to do with design and engineering and it's an incredibly exciting and challenging career. We are working with some amazing companies, based right here in the Thames Valley who are looking for bright apprentices to start this year."
As a full-time apprentice, the initial practical training with ATG Training takes place over 12 weeks, followed by a one to three year apprenticeship with an employer taking in professional qualifications such as NVQ, BTEC and OND. Applications are open now for apprenticeships, and for employers in the Berkshire, Buckinghamshire, Oxfordshire and Surrey areas wishing to take part in the scheme.
Contact ATG Training on 0845 873 8440 or visit http://www.girls-allowed.co.uk for more information.