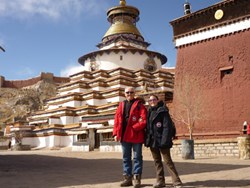 Welcome to travel in Tibet in 2014! No Hesitate to contact local agency www.tibetctrip.com!
(PRWEB) January 09, 2014
Travelers worldwide are gearing up for the 2014 Tibet travel season; as they arrive and explore Tibet many will find that shopping for unique souvenirs to be one of the most exciting parts of their visit. Browsing through busy markets like Barkhor Bazaar and bargaining with vendors can be a thrilling experience, it's also a great way to be immersed in local culture. Lhasa based Tibet travel agency TibetCtrip Travel Service-TCTS (http://www.tibetctrip.com) is sharing updated shopping tips so travelers can hit the ground running.
What to buy: Some of the most popular items include prayer flags, incense, and jewelry. There are even deals to be had on valuable items like Tibetan carpets, religious statues, and beautifully woven Thangka. Don't hesitate to ask the group's guide for advice on where to look and how much to pay!
Where to buy: While authentic Tibetan goods can be found all over the must-go place to shop is Barkhor Bazaar! Travelers could literally spend hours exploring its winding alleyways and hundreds of shops and stalls. If the Tibet tour is making a stop in Shigatse be sure to visit the market here as well. While the selection is smaller prices for goods like prayer flags are generally lower.
How to bargain: Bargaining is a normal business practice in Tibet. Typically travelers will be offered very high prices at first, respond with an offer well below and work up from there. If they are unwilling to budge don't be afraid to walk away however do keep in mind that a few RMB means a lot more to locals than it does most visitors.
Travelers love searching for the perfect souvenir and bargaining for the best price possible on their tours of Tibet. TCTS encourages travelers to purchase souvenirs from Tibetan owned establishments, not only do they provide higher quality for a better price but it also supports the Tibetan community. With shopping opportunities for every interest and budget be sure to bargain for some souvenirs while traveling in Tibet!