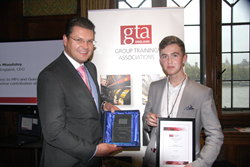 For a young person who wants to build a career, having the opportunity to work for employers like British Converting Solutions who are willing to invest in their apprentices is so valuable
Leighton Buzzard, Thames Valley (PRWEB UK) 13 November 2014
Bobby is employed by Leighton Buzzard based British Converting Solutions (BCS), who utilise the services of Thames valley training provider ATG Training to find suitable applicants, and to provide training modules at its Aylesbury-based training centre. ATG Training has been campaigning to raise awareness of apprenticeships and the consequent advantages and opportunities for school leavers.
"Bobby is a great example of the potential an apprentice has to succeed, and we were delighted to see him win the award," says Halina Simpson, Chairman and interim Chief Executive of ATG Training. "For a young person who wants to build a career, having the opportunity to work for employers like BCS who are willing to invest in their apprentices is so valuable."
Bobby joined BCS in October 2013 and immediately impressed the company's Operations Director, Simon Penwright with his enthusiasm.
"Bobby demonstrated his aptitude and ambition to succeed within weeks of joining us. A year on, he organises and holds supplier meetings, controls our manufacturing software, and is currently processing £1.7 million of purchased product per annum," says Simon.
BCS is the only British manufacturer of box making, box folding and gluing machines, which are exported globally. The company currently employs seven apprentices and completely endorse the apprenticeship scheme as the best way to train their staff. They use the services of ATG Training to vet potential candidates and to deliver a variety of training modules, pertinent to the position held by the apprentice.
Simon explains, "BCS believe in investing time and resources into our apprentices to ensure they fulfil their potential. I started my career as an apprentice at the age of 16 and see apprenticeships as a preferred alternative to employing university graduates. With the right attitude, the sky really is the limit."
Bobby Duff is certainly reaching for the sky, and he speaks highly of the apprenticeship route, "I have realised that an apprenticeship is only the start, he says. "I have a really good understanding of how hard work, motivation, and ambition can lead you into a great career and I am hoping to be able to share my experiences with school leavers who are considering their career choices, as well as mentoring future apprentices."
For further information about Thames Valley apprenticeships and current apprenticeship vacancies contact ATG Training on 0845 873 8440, or visit http://atgapprenticeships.com