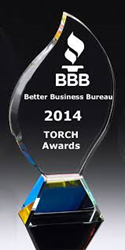 "The Torch Awards have given us the opportunity to show the San Diego community our commitment to ethics and integrity with our clients as well as our contribution to the San Diego community", says Gregg Cantor President/CEO of Murray Lampert
San Diego, CA (PRWEB) January 20, 2015
Murray Lampert Design, Build, Remodel is proud to announce that on December 2nd the firm received the BBB Torch Award for Marketplace Ethics in the category of 5 – 10 employees. This is the fourth time in the last eight years Murray Lampert DBR has won a Torch Award.
The BBB Torch Awards are the way San Diego celebrates ethical business practices in our marketplace. Businesses selected as Torch Award winners have demonstrated a strong commitment to integrity, customer service and community involvement. When consumers see the Torch Award winner logo on our company's website, marketing materials and social media platforms, it further enforces that we are among the top ethical businesses in San Diego and possesses a strong moral fiber.
"The Torch Awards have given us the opportunity to show the San Diego community our commitment to ethics and integrity with our clients as well as our contribution to the San Diego community," says Gregg Cantor President/CEO. "We are very proud of our team for working together to promote customer service excellence in our marketplace. For 40 years we have been building our reputation one home at a time. The Better Business Bureau Torch Awards is a platform where we share our success."
Murray Lampert Design, Build, Remodel has been improving San Diego Homes Since 1975. The firm specializes in Architectural Design, Residential Construction and Home Remodeling. From Kitchen Remodeling to Additions and Major Home Renovation, Murray Lampert handles everything from the initial design to the final inspection.
For the past 17 years, the San Diego Better Business Bureau has hosted the Torch Awards for Marketplace Ethics to promote not only the importance of ethical business practices, but the willingness and efforts of outstanding businesses to ensure that our marketplace remains fair and honorable. The Torch Awards is open to all businesses and organizations that service San Diego and/or Imperial County markets. Companies must be in good standing with the BBB; however BBB Accreditation is not a requirement for entry or consideration. Each year, one winner and up to two finalists in eight categories, varying by the size of the company and one non-profit category, are presented with their own torch award.