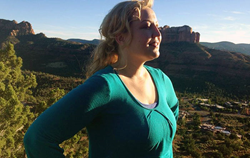 Step into this conscious fiction adventure novel set in Sedona, Arizona, where five lives converge to undo thousands of years of human corruption.
Sedona, Arizona (PRWEB) November 12, 2014
Love to travel? Love to read adventure novels? BEST Life Media, leading independent publisher of healthy living and lifestyles, today announced an exciting contest for readers and adventurers of all ages through its newest book release, The Secret of Mago Castle by Rebecca Tinkle, now available where books are sold.
Set in Sedona, Arizona, The Secret of Mago Castle is an adventure novel featuring five lives converging to undo thousands of years of human corruption, as the fate of the world hangs in the balance. The new book release is Rebecca Tinkle's sophomore novel, which she penned after a life-changing experience in South Korea. A conscious fiction writer, Tinkle is an avid practitioner and teacher of yoga and meditation.
Sedona is famous worldwide for its mystical energy and stunning red rock landscape. Tourists from all across the globe flock to this sacred land to feel its unique energy and capture its beauty.To celebrate the new book launch, anyone can enter for a chance to win a complimentary trip in just two simple steps:
1. Post a review of The Secret of Mago Castle by Rebecca Tinkle, on Amazon, Barnes & Noble, or Goodreads.com
2. Email your Name, Email Address, Phone Number, and Link to your book review to Linda Suh at linda@bestlifemedia.com.
One lucky 1st prize winner will win a round-trip flight and 3-day, 2-night personal getaway at Sedona Mago Retreat in Sedona, Arizona and will personally meet with Rebecca Tinkle.
Two 2nd prize winners will receive a 30-minute Skype training session with the book's author to discover and receive their own talisman, like the characters in The Secret of Mago Castle.
Three 3rd prize winners will get a personalized 15-minute guided MP3 meditation by Rebecca Tinkle.
The contest is currently open to public, ending on November 30th at 11:59 PM, PST. Winners will be contacted via email by December 3rd, 2014.
For more information, please visit SecretofMagoCastle.com and The Secret of Mago Castle Facebook page.
About BEST Life Media:
BEST Life Media is an independent publisher located in Sedona, AZ that produces books, CDs, DVDs, and other tools that support a lifestyle based on continuous personal growth and enrichment.
Media Contact
Linda Suh | direct: (213) 841-7721 | fax: (928) 282-8467 | email: linda@bestlifemedia.com