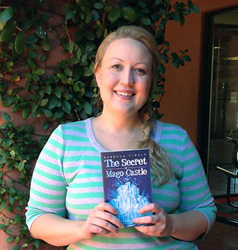 It will keep you enthralled until the very end!
Sedona, Arizona (PRWEB) October 09, 2014
BEST Life Media will debut its first fantasy fiction novel—The Secret of Mago Castle—on October 10, 2014. Written by a brilliant new author, Rebecca Tinkle, the book weaves a delectably whimsical tale with a colossal message for humanity.
Called "insightful and intriguing" by reader Franklin Hughes, The Secret of Mago Castle delves into ancient wisdom to catch a glimpse of the future. It is an edge of your seat, heart opening, consciousness expanding adventure set in Sedona, Arizona. "It will keep you enthralled until the very end," proclaimed Stephanie Wilson, another reader.
When the protagonist, Angeline—guided by serendipitous events—sets out to escape her troubles among the red rocks of Sedona, she never imagines that she will discover her destiny. Five lives converge in this peaceful tourist town where the fate of the Earth hangs in the balance. As Angeline and her cohorts, Toby, Noah, Suna, and Leuters, discover latent supernatural abilities and wisdom from an ancient past, they race against time to dissolve the veils between the physical and spiritual worlds.
The author will begin a book signing and lecture tour in October until the end of the year in AZ, CA, NV, CO and the greater NY area. The 2014 tour will culminate in a retreat based on the novel at Sedona Mago Retreat in Sedona, AZ, from December 5-7. The tour will then resume for 2015 in IL, TX, GA, DC, MD, and NJ.
Rebecca Tinkle is an American writer and film producer, who describes herself as "two parts Buddha and one part fairy godmother." She penned her first novel in 2008, after a life-changing spiritual awakening while visiting South Korea. As a novelist, Rebecca's style has been described as innovative, mystical, and vivid. She lives in Sedona, Arizona. To follow book tour dates near you or to read more about the​​ retreat and Rebecca Tinkle, visit http://www.secretofmagocastle.com.
Best Life Media is an independent publisher located in Sedona that produces books, CDs, DVDs, and other tools that support a lifestyle based on continuous personal growth and enrichment. It is dedicated to providing positive and supportive resources through which individuals can create happier, healthier, and more peaceful lives for themselves and their community. For more information, visit http://www.bestlifemedia.com.
Format: Paperback
Pages: 368 pages
Publisher: Best Life Media (October 2014)
ISBN-13: 978-1-935127-71-0
Price: $14.95
MEDIA CONTACT
Linda Suh | direct: (213) 841-7721| fax: (928) 282-8467 | email:
linda(at)bestlifemedia(dot)com