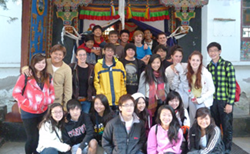 Join budget Tibet Tours with responsible Tibet travel agency www.tibetCtrip.com in 2014.
Lhasa, Tibet (PRWEB) February 28, 2014
Travelers agree that joining budget Tibet tours is a fantastic way to get the best bang for their buck while travelling in Tibet. As spring comes to Tibet soon so do crystal clear mountain views and blue skies without the frigid temperatures of winter! This year, TibetCtrip Travel Service-TCTS (http://www.tibetctrip.com) is introducing new budget tours; by limiting group sizes to around 10-12 travelers, TCTS helps travelers save money without sacrificing all the comforts and flexibility of a private tour.
There are budget Tibet travel options for almost every kind of traveler. Outdoor enthusiasts can team up to conquer one of Tibet's famous treks while travelers who really want to dig into Tibetan culture and history can join like-minded travelers on an extensive overland tour of Tibet. Those making the journey across Asia can enjoy a 4-5 day introduction to Tibet then move on to their next destination. Whether a travel group is made up of students, a few friends, or family members there is a tour to fit nearly all interests.
Smaller group sizes allow for a more flexible Tibet tour schedule and more comfortable transportation between destinations; no more crowded tour buses with 20-30 other travelers! TCTS works to provide travelers with the most authentic experience possible by employing experienced native Tibetan guides. Travelers can gain deep understanding of the places, the people and Tibetan culture.
Budget tours of Tibet by TCTS are a fantastic way to cut costs while having the most authentic experience possible. Traveling in Tibet is a unique experience that allows travelers to walk away with valuable knowledge and cultural understanding. TCTS believes that keeping the group size small and the schedule flexible is key for getting the most out of time in Tibet.
Tibet travel agency http://www.tibetCtrip.com (TCTS) published the above new release before the 2014 tour season comes. TCTS is reputable because of the reasonable price and responsible services since 1999.