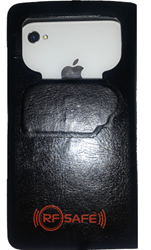 Highly debated risk from cell phone radiation include: brain cancer, breast cancer, low sperm count and birth defects.
Aspen, CO (PRWEB) April 12, 2014
RF Safe (http://www.rfsafe.com) has embarked on a mission to educate the public and provide the best protection from exposure to microwave radiation for over the last 16 years. Since 1998, RF (Radio Frequency) Safe has been dedicated to evolving the wireless industries safety standards, by engaging in the business of design, testing, manufacture, and sale of safety technologies to mitigate harmful effects of cell phone radiation.
RF Safe announces important tips for new cell phone users that want to err on the side of caution by using the best accessories for cell phone radiation safety.
RF Safe makes it as easy as 1-2-3 to use a cell phone safely with just a few important cell phone radiation safety accessories.
RF Safe now provides these three very important cell phone radiation safety accessories in one easy package.
This technology utilizes a state-of-the-art enhanced sound chamber which delivers crystal clear sound through an air-filled wireless tube (similar to a doctor's stethoscope). By replacing the wire with air tube acoustic technology, the RF Safe Headset reduces RF exposure to the head.
2) RF Safe Clamp-on Ferrite Bead
Wires or cables connected/extending from electronic devices using radio waves (such as cell phones), if not shielded will emit over ambient RF radiation levels. To suppress high frequency RF radiation from interacting with sensitive electronics and cell phone users.
3) RF Safe Pocket Shield or custom shielded cell phone flip case
When a cell phone is attached to a belt or in a pocket/purse radiation can penetrate the area near the cell phone handset. This radiant energy is absorbed much faster than at the head because tissues and organs such as liver, kidneys and reproductive organs provide much better conductivity than the skull. Simply put most major organs have no bone protection like a brain does. To avoid microwave exposure to vital organs and/or fetal development when using a cell phone next to the body, a deflective barrier "RF Safe Pocket or Purse Shield" or custom shielded flip case must be used between a cell phone user and the handset itself.
Get an RF Safe Cell Phone Package Here
Remember…
Better RF Safe Today…Than Sorry Tomorrow!