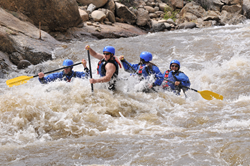 If you are looking for exciting whitewater – now is the best time to go rafting in Colorado.
Buena Vista, Colo. (PRWEB) June 04, 2014
River Runners, a Colorado whitewater rafting company with two locations on the Upper Arkansas River, announces high water conditions expected to last through June, with guided raft trips offered every day through September 1, 2014.
An above average snowpack in the Upper Arkansas River Basin is the reason for the big whitewater this spring and summer, according to Travis Hochard, general manager, River Runners.
"The snowpack is at 140 percent of average for this time of year, which means there is still a lot of snow in the high country waiting to melt," Hochard explained. "We expect awesome rafting conditions through Labor Day."
The Arkansas Headwaters Recreation Area (AHRA) has issued a high water advisement in the Royal Gorge, the Numbers and the Pine Creek sections of the Arkansas River, according to the AHRA website.
"High water conditions will be found on the Arkansas River for the next several weeks," said Jon Treleani, head boatman, River Runners. "If you are looking for exciting whitewater – now is the best time to go rafting in Colorado."
Age restrictions have raised from six to eight years old in the Browns Canyon and the Bighorn Sheep Canyon sections, according to Treleani.
"The water is high, but we still have raft trips for younger families and first-time rafters," Treleani said. "Family Float rafting trips depart daily with minimum requirements of six years old and 50 pounds."
River Runners operates whitewater raft trips on the Arkansas River near Cañon City and Buena Vista, Colo. Choose from beginner, intermediate and advanced whitewater on half-day, full-day and overnight raft trips. Open daily April through Labor Day. Get 20% off weekday raft trips with discount code WEEKDAY. Call 800-723-8987 or book online at whitewater.net.