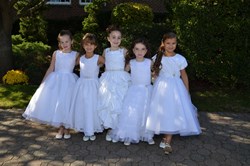 We believe that all girls should be able to have the dress of their dreams on their first communion. That is why we now offer our entire Communion Collection in plus sizes.
Baldwin, NY (PRWEB) November 05, 2013
The Sweetie Pie Collection is a leading designer of all kinds of Special Occasion Dresses. Their newly introduced 2014 Collection of Communion Dresses is comprised of many styles and variations. Whether parents are going for the glitzy look with beautiful rhinestones and crystals, a more vintage look, or even a more sophisticated and elegant look the Sweetie Pie Collection has the perfect dress for any special occasion. They offer a wide variety of fabrics and sizes to ensure they have the perfect dress for everyone. The 2014 Collection features beautiful satins, lush tulle, and soft organzas. If couture is more your style, they also offer the 100% silk Premiere Couture Collection. All of these gowns are handmade and offer the finest in design and craftsmanship that boutiques have come to expect from a Sweetie Pie Collection dress. Sweetie Pie gowns are available in the finest boutiques all over the United States and around the world. For a list of authorized retailers you can visit their website at http://www.SweetiePieCollection.com and click on the store locator link, or they can be contacted at their customer services department in New York at (516) 764-2731 for assistance.
The Sweetie Pie Collection has always offered the most beautiful plus size dresses in the industry. Logistics, sales, and website manager Stephen Warshaw said, "We believe that all girls should be able to have the dress of their dreams on their first communion. That is why we now offer our entire Communion Collection in plus sizes." What this means is that all authorized retailers will be able to special order any Sweetie Pie Collection dress in plus sizes. These dresses are all made to order, so it is highly recommend that individuals don't hesitate. Anyone can visit their local Sweetie Pie Collection authorized retailer and order dresses, but shouldn't wait until the last minute because of an 8 week production time. The Sweetie Pie Collection carryover Communion Collections and 2014 Communion Dress Collection will be in stores by the end of December.
Many families celebrate the birth and acceptance into their religion with a Christening. Whenever a child is born it calls for celebration among family and friends. The Sweetie Pie Collection designs some of the most well-known and beautiful Christening gown styles to help commemorate this special day. Sweetie Pie Collection offers a variety of comfortable silk Christening gowns for girls and christening outfits for boys, as well as taffeta and satin garments. These Christening dresses are sure to impress and leave a lasting impression on this special day.
Sweetie Pie Collection has been an industry leader for over 25 years. Their experience in designing the finest quality and most popular flower girl, communion and girls special occasion dresses has enabled them to continue doing what they love to do. All of their dresses are available in toddler sizes through juniors (2-14). This makes matching siblings for an occasion or wedding very easy. All of their different collections can be special ordered through local retailers in over 100 different styles; offered in many colors, size ranges, and fabrics. The Sweetie Pie Collection is sure to have something for everyone.
"If It's Not A Sweetie Pie, It's Just A Dress"