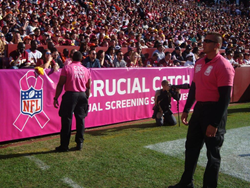 Northridge, CA (PRWEB) October 01, 2014
Contemporary Services Corporation (CSC), the world leader in crowd management and event security, will be supporting breast cancer awareness by wearing pink uniforms at various events throughout the month of October. CSC will continue to partner with its clients to promote National Breast Cancer Awareness Month (NBCAM) through various campaign initiatives. Operating more than 50 U.S. branch locations, CSC proudly promotes NBCAM alongside various professional, collegiate, and high school sports leagues.
NBCAM, founded in 1985, raises breast cancer awareness as well as the significant funding necessary in aiding research into the disease's causes, treatments, preventions and potential cure. NBCAM has made remarkable strides in the fight against breast cancer through advances in medical research, increased awareness, and early detection through screening. CSC is a proud supporter of this cause and encourages others to participate in promoting breast cancer awareness.
Contemporary Services Corporation (CSC) is the world leader in crowd management and event security for the entertainment and sporting event industries. Throughout its 47 years of experience, CSC has garnered a loyal and esteemed clientele base, including more than 100 stadiums and arenas, over 100 universities and colleges, more than 30 convention centers, and numerous clients within the professional ranks of MLB, MLS, NBA, NFL, NHL, and NASCAR. CSC has also provided services for the world's most prestigious special events, including Collegiate Bowl Games, NCAA Final Four Tournaments, PGA of America, PGA TOUR, US Open Tennis, 30 Super Bowls, 9 Olympic Games, 4 Presidential Inaugurations, 2 Papal visits, and 2 FIFA World Cups. CSC operates more than 50 branch locations throughout the United States and Canada.
http://www.csc-usa.com
facebook