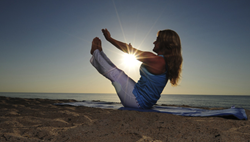 Regular class helps people relax their bodies and minds and get to know the feeling of "energy," but the workshop accelerates this process.
Gilbert, AZ (PRWEB) April 16, 2014
Dahn Yoga & Health Centers, Inc., a national leader in health and wellness, announces practitioners can now register online for two Dahn Yoga workshops being offered at locations around the country. Currently a discount is available upon online sign up for the "Initial Awakening Workshop" and the "Sedona Retreat for Change." Especially helpful in introducing the energy principles behind Dahn Yoga exercise, the workshops offer a healthy foundation for Dahn Yoga practice.
The "Initial Awakening Workshop" is described as a dynamic one-day experience that helps participants develop a stronger connection with their body. Offering a direct experience of the energy system of the body and how it works, "the workshop helps you open up energy pathways, strengthen your core, and awaken your energy sense deeply. You will learn how to apply Dahn Yoga principles to your everyday life for more energy, greater strength, better stress management, and clear focus. Initial Awakening is essential if you want to get the most out of your Dahn Yoga practice."
Cited as suitable for beginners, this workshop offers participants "hands on" learning of the key principles of Dahn Yoga exercise developed by DahnYoga founder Ilchi Lee as they develop core strength and learn energy management.
An article from the monthly publication Dahn Yoga Life (January 2014) offered an overview of the workshop's objective and activities, especially with regard to introducing newcomers to energy principles such as "Water Up / Fire Down." In the article, "Dahn Yoga Workshop Spotlight: Initial Awakening," Arthur Babakhanov, a senior Boston-area Dahn Yoga instructor, Center Manager and experienced workshop trainer commented, "Regular class helps people relax their bodies and minds and get to know the feeling of "energy," but the workshop accelerates this process."
The Sedona Retreat For Change Is a three day journey that is open to anyone and includes vortex meditation, trainings for change (both indoor and outdoor), and special lectures. "This retreat will guide you to encounter life changing moments through the communication with yourself and nature. Reclaim the original beauty in you and enjoy guided meditations that will enhance self-awareness at the major vortex sites."
To learn more about these workshops that serve as a springboard and support Dahn Yoga practice, or to register online, visit the website, DahnYoga.com.
About Dahn Yoga:
A national leader in health and wellness, Dahn Yoga is a dynamic mind-body practice originating in Korea that combines stretching, flowing movement, deep breathing exercises and meditation in a simple and easy to learn format that focuses on the development of the body's core strength as the basis of physical, mental, and spiritual health. Dahn Yoga practice includes a unique emphasis on the brain as the determiner of health and wellbeing and classes may include brain exercises that challenge and sharpen the mind and help practitioners develop greater awareness and sensitivity to the well-being of their bodies.