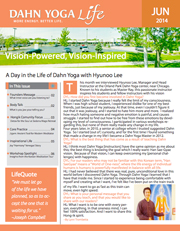 Dahn Yoga & Health Centers, Inc. is pleased to announce a new, more reader friendly format for their monthly community newsletter
Gilbert, AZ (PRWEB) June 25, 2014
Dahn Yoga & Health Centers, Inc. is pleased to announce a new, more reader friendly format for their monthly community newsletter, Dahn Yoga Life. The new format is in line with the company's service motto "more energy, better life."
The new larger print format with wider columns is now a tri-fold publication brimming with news from the Dahn Yoga community. Along with the inspirational stories and holistic health information that Dahn Yoga Life is known for, several new features have been added.
Beginning with the June 2014 issue, look for the new photo-oriented inspirational message from Dahn Yoga founder, Ilchi Lee in the full-color newsletter along with an inspiring quote from various featured thought leaders each month.
Dahn Yoga Life has it all: Workshop spotlights, Inspiring interviews with instructors around the country, Community focused articles and tips on various techniques taught in Dahn Yoga classes.
About Dahn Yoga:
Dahn Yoga is a dynamic mind-body practice originating in Korea that combines stretching, flowing movement, deep breathing exercises and meditation in a simple and easy to learn format that focuses on the development of the body's core strength as the basis of physical, mental, and spiritual health.