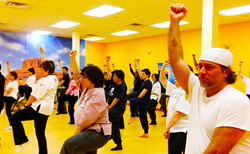 DahnMuDo is a practice to train the physical body, energy body and spiritual body.
Gilbert, AZ (PRWEB) May 30, 2014
Martial arts can be healing arts, as participants learn in Dahn Yoga's DahnMuDo Course. A recent story in Dahn Yoga community news offers a glimpse into training and techniques which help the human body heal and the human spirit grow.
SooAhm Lee, the main trainer for this healing martial art in the United States, shares his thoughts on what people can learn in the article, "Workshop Spotlight: DahnMuDo Course Teaches Empowerment and Service." Lee explains how his teachings emphasize a connection to Brain Education (BE), "DahnMuDo is a practice to train the physical body, energy body and spiritual body."
The article further explains that DahnMuDo was developed by Ilchi Lee, Dahn Yoga Founder, whose teachings include the concept of "completion." On this topic the article says, "Similar to the concept some think of as "enlightenment," completion is a process where a human is united with their inner divinity. It starts with awareness of their true nature and progresses through action. In this way the human body is a tool for spiritual growth."
Read the full article in the monthly publication, Dahn Yoga Life, or in DahnYoga.com's Yoga Life section, where you'll find a broad overview of topics of interest for practitioners of yoga, tai chi and meditation. For those interested in learning about how to put these practices to work through community service, please visit the Dahn Yoga Foundation website.
About Dahn Yoga:
Dahn Yoga & Health Centers, Inc. is a national leader in health and wellness offering yoga, tai chi and meditation classes and workshops. Dahn Yoga is a dynamic mind-body practice originating in Korea that combines stretching, flowing movement, deep breathing exercises and meditation in a simple and easy to learn format that focuses on the development of the body's core strength as the basis of physical, mental, and spiritual health. See the Dahn Yoga Essentials DVD Trailer for more insight.