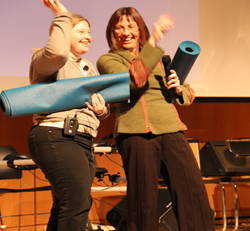 Referring to one of her students she states, "People with disabilities are generally, considered non-contributing members of society. Here's someone with disabilities teaching stress management to managers!"
Gilbert, AZ (PRWEB) March 25, 2014
This month's issue of Dahn Yoga Life spotlights Dahn Yoga practitioner Katie Brisley-Logue and shares the story of her health triumph using techniques developed by Dahn Yoga Founder Ilchi Lee, and tells how she became a Brain Education instructor.
In the March 2014 article, "An Inspirational Life: Katie Brisley-Logue Sharing the gift of healing and empowerment," Brisley-Logue explains how Dahn Yoga practice aided her recovery from a transient ischemic attack (TIA) and led her to discover how she could help young people with disabilities.
Learn more about the workshops and training she attended, including Brain Management Training and how she developed a vision as she realized the techniques she had learned to help her recover from her TIA could be applied to the individuals with developmental disabilities and autism she served at her agency. Success stories of two of her students of the classes for kids with disabilities and autism she created at the Union Square Dahn Yoga Center in New York are included.
Referring to one of her students she states, "People with disabilities are generally, considered non-contributing members of society. Here's someone with disabilities teaching stress management to managers!" You can read Brisley-Logue's inspiring story in the monthly publication, Dahn Yoga Life, where you'll find a broad overview of topics of interest to Dahn Yoga practitioners. For those interested in learning more about the community of practitioners, please visit the Dahn Yoga Foundation website.
About Dahn Yoga:
A national leader in health and wellness, Dahn Yoga & Health Centers, Inc. offers classes in a dynamic mind-body practice originating in Korea that combines stretching, flowing movement, deep breathing exercises and meditation. The simple and easy to learn format focuses on the development of the body's core strength as the basis of physical, mental, and spiritual health. See the new Dahn Yoga Essentials DVD for more insight.